Palm Springs and Coachella Valley Weddings 2017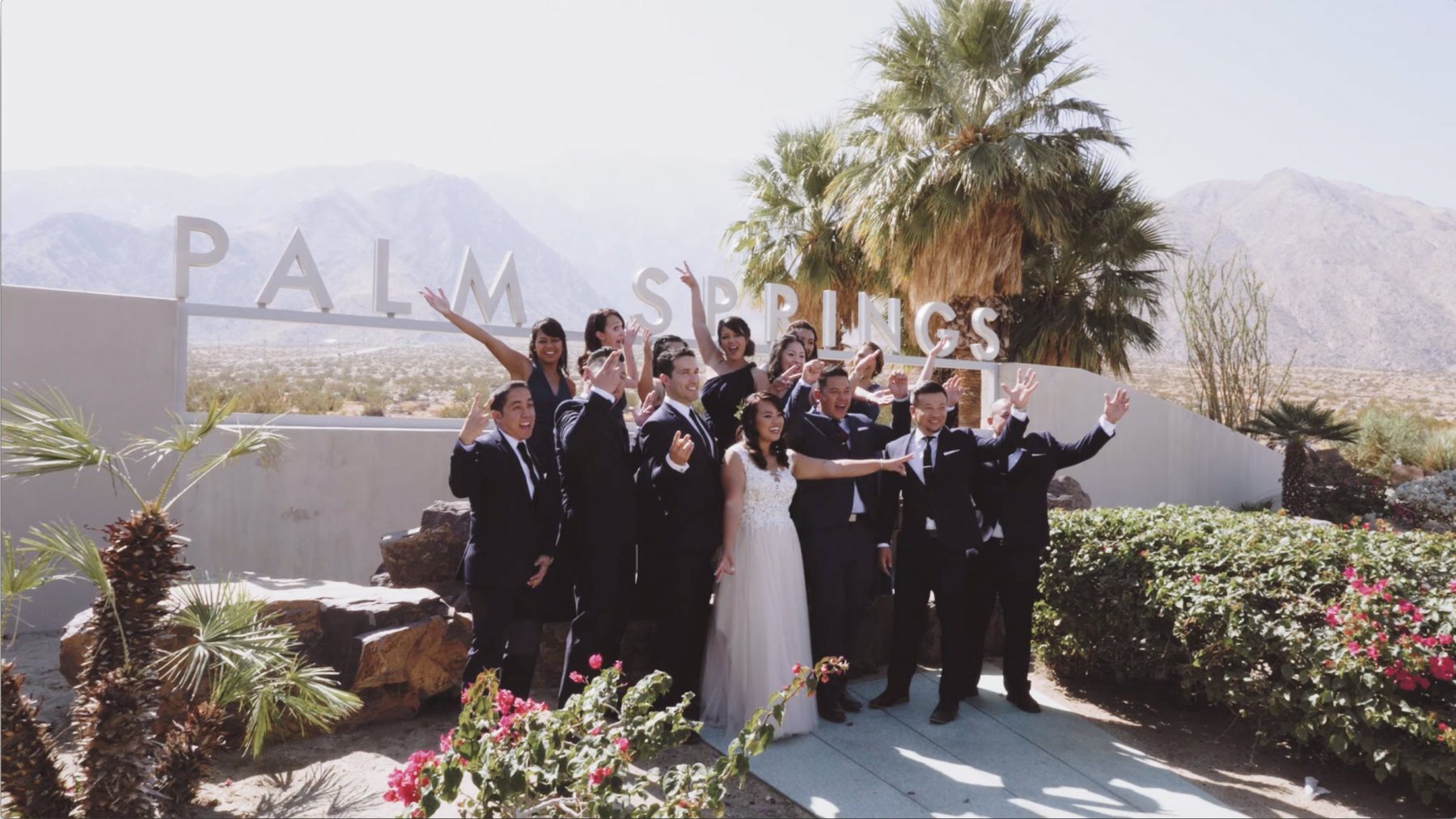 This year we shot wedding videos for several beautiful and unique weddings in Palm Springs and the Coachella Valley! From pool party weddings to Rolls Royce exits there were a variety of wedding venues and styles but all were a ton of fun to shoot and edit.
Our most popular film this year was Clay and Karen's fun day at the La Chureya Estate. We loved that Clay and Karen skipped a wedding cake cutting and went for a wedding cake piñata instead! We weren't the only ones who thought this was an awesome idea — our Instagram-length edit of the video was posted on the Wedding Chicks Instagram and has over 4 million views. The video was also shared on HuffPost Weddings, LoveStoriesTV, HonestlyYum, ABC News, The Daily Mail, and Weather.com.
Another favorite film was Emetisse and Payum's wedding at the Parker in Palm Springs. They wanted a film that really focused on them as a couple and all the special details of the day. Emetisse wore a beautiful lace dress that she wanted to highlight in the film through close-ups and detail shots. This is exactly the kind of request we love and we were happy to oblige!
Jeff and Amafel kicked off their wedding day by cruising around Palm Springs in a stretch limo with all of their wedding party to take some fun group shots. They had their ceremony and reception at Spencer's Restaurant, where they surprised their guests with a performance by comedian Joey Guila that had the audience roaring with laughter. The whole wedding day was full of laughter, smiles and fun.
Chris and Louise had their wedding at the Palm Springs Fan Club, which is the event space at the ARRIVE Hotel in Palm Springs. They made full use of the two spaces, with the ceremony and dinner at the Fan Club and cocktails and dancing by the pool. After having the wedding on Friday evening, they stayed for a pool party weekend at the hotel with all their guests.
We had a blast filming Larry & Jennifer's fun, irreverent wedding at the Hideaway in La Quinta. They skipped any formal seating or eating arrangements and instead had food trucks from Sushi Burrito, the Original Tommy Burgers, Cosmic Foodie Grilled Cheese Sandwiches and more! Guests were treated to a fun night with a great band and hand-rolled cigars.
Michelle and Josh got ready and had their first look at the beautiful La Quinta Resort and Club. They had their ceremony and reception at PGA West in La Quinta. After the ketubah signing and ceremony, the party started! After their fun and rambunctious hora dance, the band kept the dance floor packed and guests danced the night away until the sparkler exit.
Rachelle and Brandon's wedding was held at the beautiful Bougainvillea Estate in Indio, California which made the perfect setting for their summery desert wedding. We loved all the touches they included in their wedding day, from Rachelle arriving at the ceremony in a classic Rolls Royce to the late-night french fry snack for their guests.
We're finishing up a few more Palm Springs wedding videos from this year, so keep an eye on our portfolio for some new films coming soon!