How to Have the Joshua Tree Desert Elopement of Your Dreams
Are you planning on (or just dreaming of) eloping in Joshua Tree? We've got some advice and inspiration for you!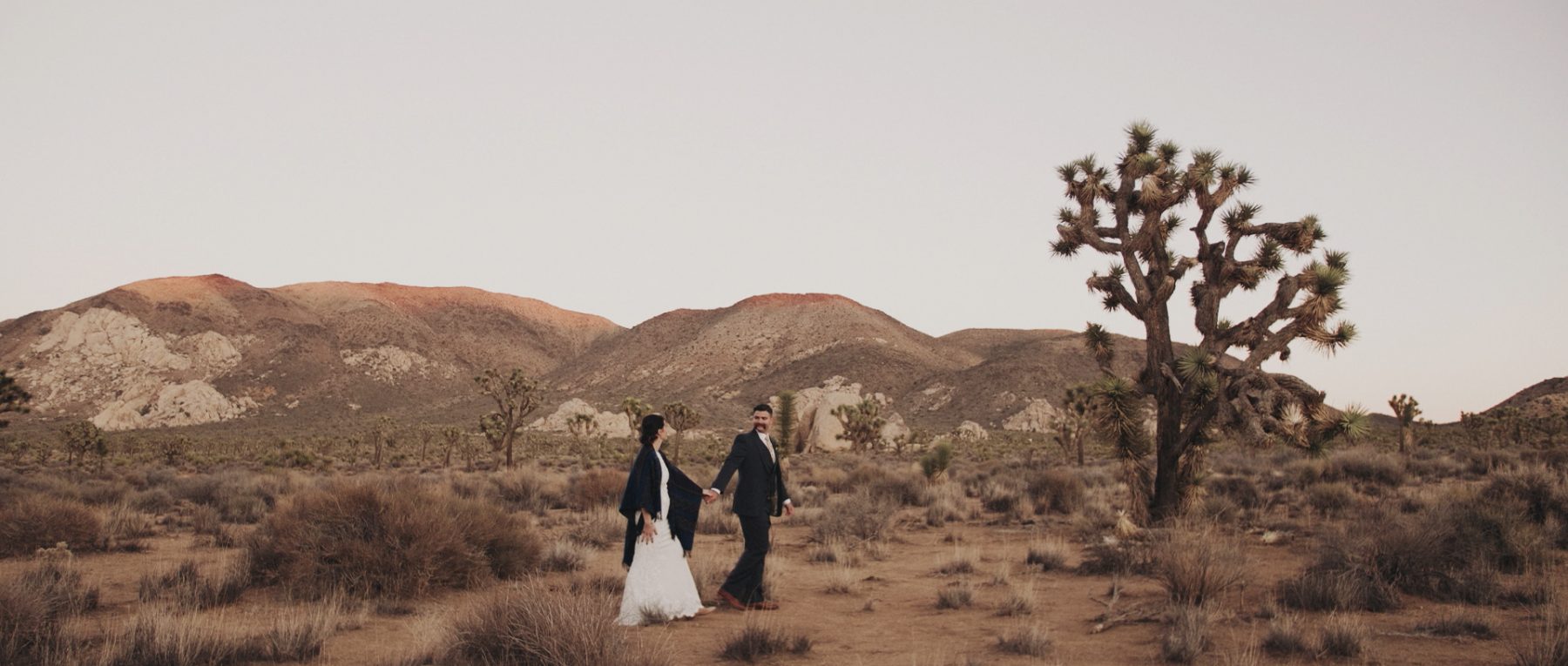 Deciding to Elope
We're seeing more and more couples ditch the traditional big wedding to create a celebration that reflects them. Some couples choose to elope alone and others bring a few close friends and family (or pets!) with them.
Elopements have a very different feel from a traditional wedding day — they tend to be quieter, more intimate and have a special magic of their own. They can be super romantic, or just plain fun — whatever your style is as a couple, you can be exactly that on your wedding day when you elope.
If your family is feeling a bit left out by the idea of you eloping, you can always do something with them later. Almost all of the couples we work with have a big party back home a few months after their elopement so their friends and family can celebrate with them. This is a fun time to unveil your elopement film! We can also provide an edit of your full ceremony so your family can see every moment.
Amanda and Mike flew in from Florida to elope together in Joshua Tree National Park. They were married by Trish from Desert Popup who also designed and planned the wedding, bringing in some soft furnishings to make a cute nook for the couple to relax in and toast with a glass of bubbly once they'd tied the knot.
Amanda and Mike rented the SkyHouse in Joshua Tree to get ready in. The Skyhouse is a spectacular property on the way up to the national park, complete with swimming pool and a large area of open desert behind it. We had fun, alongside the photographer Krista Ashley, taking advantage of all the quirky architectural details, such as mirrored external walls and a large glass sliding exterior door which opens up the back of the house.
Planning
It's definitely possible to plan your own elopement! But it can be stressful if you are trying to plan from far away and don't know the area or the local vendors. If you'd like have someone whisk you off to the elopement of your dreams — or even if you just need help navigating logistics, we highly recommend Desert Pop-up. Based right here in the high desert, they are tiny-wedding planning experts! They can help you get your wedding permit, choose the perfect location, and create an amazing ceremony set-up that reflects your style, as well as providing photography, an officiant, flowers, cakes and sweet nibbles, hair and makeup and and even car service.
If you want to go ahead and plan yourself, check our blog for more resources. We've got info on where to get your marriage license, how to find someone to officiate the ceremony, do your hair and more in our post Getting Married in Joshua Tree & The High Desert, our most comprehensive list of local resources.
Where to Elope
Within Joshua Tree National Park there are several different spots that you can get a permit to do your elopement ceremony. Check our post, Planning a Wedding in Joshua Tree National Park. There you'll find how to get your wedding permit, the spots within the park that you're allowed to have a ceremony, as well as the dos and don'ts you should know about before planning a national park wedding, and more!
As well as in the park, you can also elope at a venue, such as Rimrock Ranch, or at an airbnb. These can be just as beautiful as going into the park, and can be more private if you're planning to get married during the busy season at the park. Even if you don't have your ceremony there, staying in a location you love makes for great shots of you two getting ready, as well as having a first look before heading into the park.
Australia had only recently amended their laws to allow same-sex marriage at the end of 2017, but by then Bianca and Zena had already planned their California elopement with just a few friends and family members joining them. Having picked Rimrock Ranch for their venue, they were wed by Minister Marie in a beautiful and ceremony with some of the most heartfelt vows we've witnessed.
What to Wear
You can wear anything to an elopement — from a formal dress to hiking boots! However, planning a bit for the climate and terrain will make your day easier and more enjoyable. After seeing what worked well (and not so well) for our couples, we wrote our post How to Dress for Success at a Joshua Tree Wedding to help you out.
Videography
As well as being a way to relive your magical elopement, a video is a great way to share your elopement with your friends and family and make them feel a part of the day.
Videographers everywhere love shooting in Joshua Tree! But of course we have to suggest ourselves, Jim & Melissa. As locals, we know all the ins-and-outs of shooting out here as well as the best spots, best time of day, and more! Look at our portfolio for more examples of our work. We shoot everything from simple elopements to multi-day adventures.
If you'd like to hire us for your elopement video, please get in touch! We'd love to hear what you are planning.
We hope this blog has been helpful! Are you planning to elope? What other questions to you have? Leave us a comment below!