Make Your Wedding Personal with Minister Marie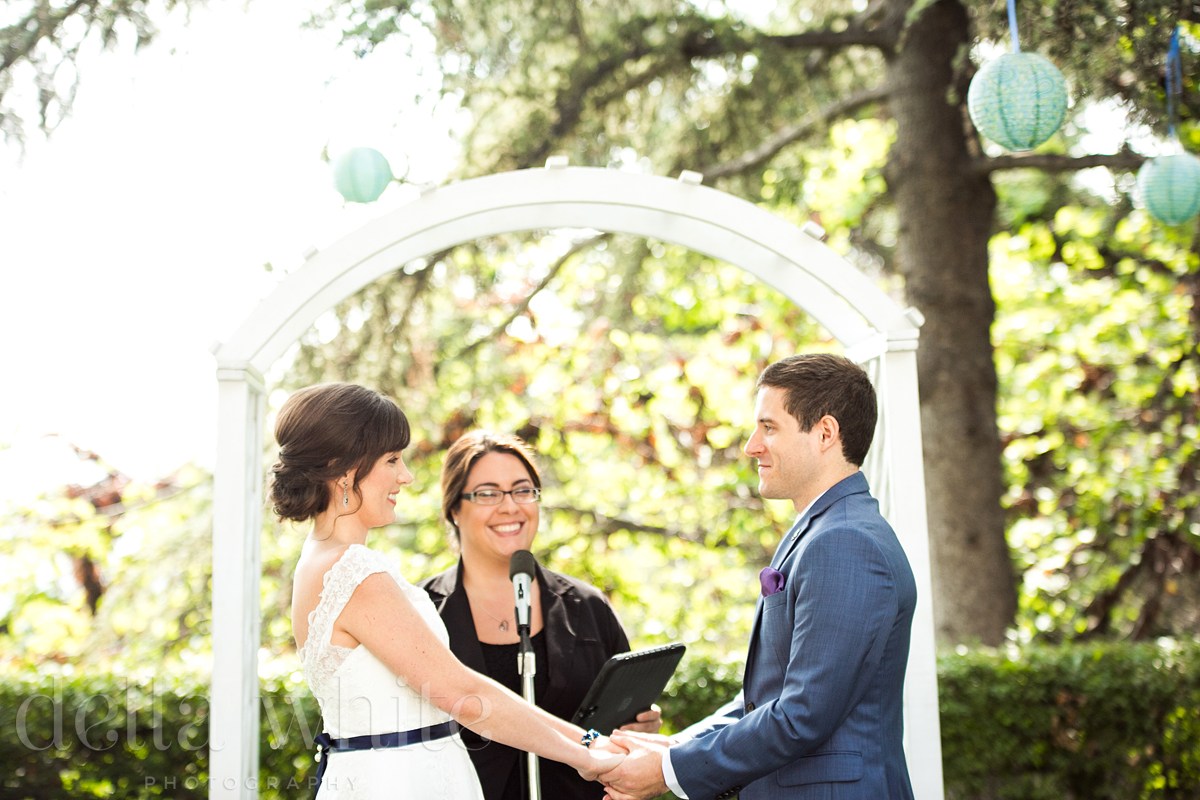 As videographers, we are usually hired after the majority of the other vendors but we recently learned that there is one vendor who is often hired last — the officiant. That seems crazy to us!
As Southern California wedding officiant Marie Burns Holzer points out, "An officiant is literally the only person you need in California to legally get married. But of your wedding vendors, we're the least expensive and often chosen last. Don't cut yourself short by waiting until two months before your wedding and just going with the cheapest officiant available. Instead, find an officiant that can do your marriage justice. After all, your wedding IS the ceremony. Think about that for a minute. The wedding is the moment you declare your marriage and the experience everyone is gathering to witness. Spare your loved ones another boring wedding and instead choose an officiant you vibe with, someone that will make you feel supported and celebrated, and will guide you through that experience in the spirit you live your life together."
We've personally seen what a difference having a professional officiant can make on the wedding day! So on our blog we're highlighting some great officiants you can hire. This first one is an interview with Minister Marie, a non-denominational wedding minister serving all of Southern California, including Palm Springs and Joshua Tree.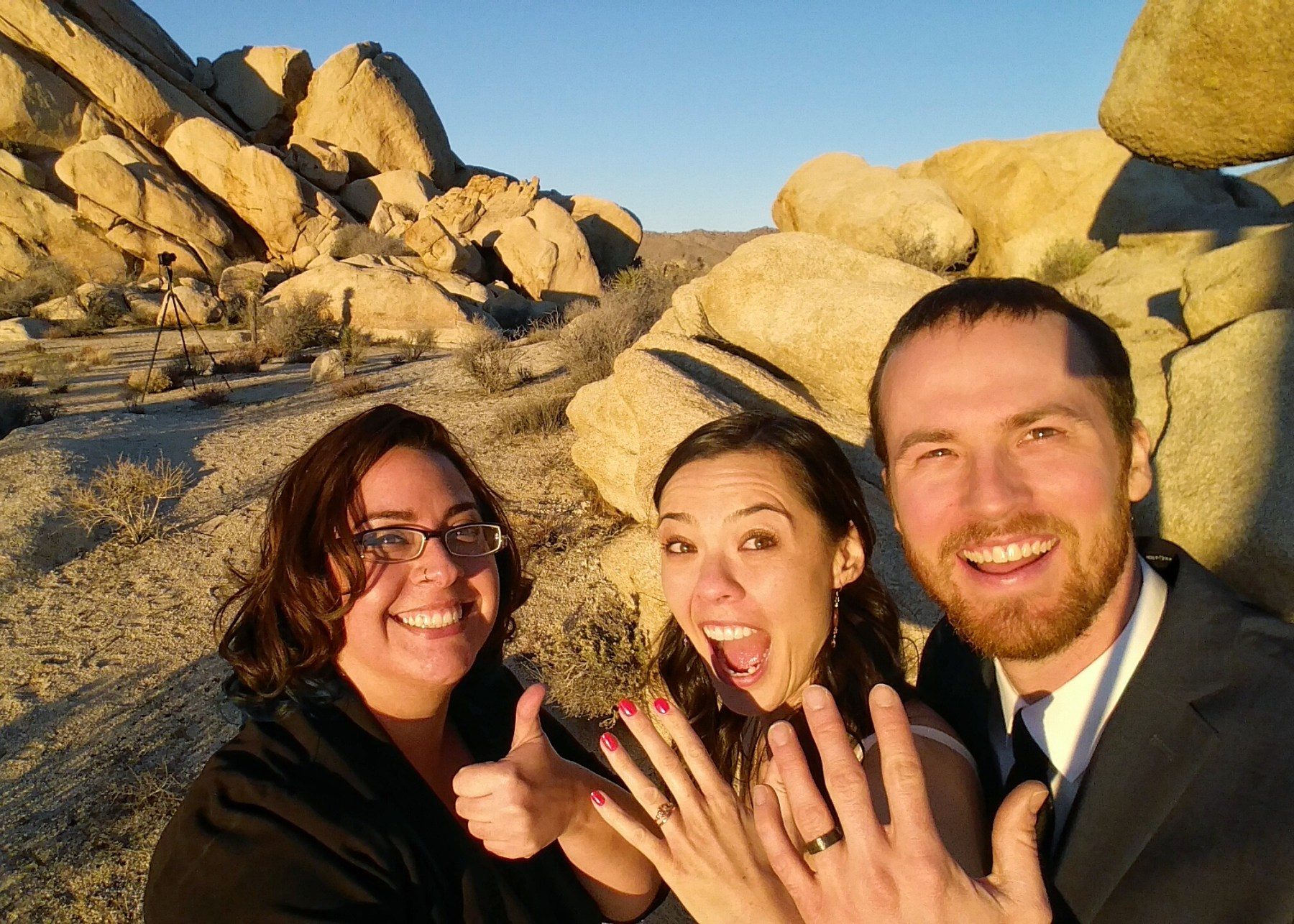 What are some of the benefits of hiring a professional officiant vs. a friend or family member?
Minister Marie: The benefit of hiring a professional officiant is the experience you get with a pro versus an amateur. We know not only how to structure, write, and perform a wedding ceremony in an engaging way, but we can also navigate the pitfalls and problems that you can only learn about through experience like mics going out, bad weather, and missed cues.
When a love one performs your ceremony, understand that they are working on your wedding day. They don't get to focus on being with you because their attention is on public speaking, trying not to mess up your ceremony, and then wondering if they did a good job or not. And all of that is completely understandable when doing such an important job for the first time!
While many people choose a loved one because they believe it is more personal, many overestimate the ability of their friends and family to speak in public and beautifully perform this rite of passage. The right professional officiant can make your wedding not only meaningful, but personal and fun. Plus this lets your loved ones enjoy just being present with you on your wedding day.
What are your unique strengths or talents as an officiant?
Minister Marie: The three qualities my couples tell me are my trademarks are my flexibility, customization, and that my ceremonies are meaningful but also really fun. The flexibility is because I straddle tradition and the non-traditional. I love the symbolism of ritual and rites of passage, but also have no problem eschewing a tradition if it just doesn't speak to my couple. Instead, I find things that do resonate with them.
Which leads me to the second quality of customization: Every wedding I do is custom to that couple. Rarely in life do we get a real chance to share a big moment in our lives with everyone we know and love and I adore getting the chance to explain why this wedding matters so much to you two personally. I firmly believe that your wedding ceremony should share your story and explain the meaning of this experience to your journey as a couple.
Finally, I believe that your wedding should be fun. A novel concept, I know! But really, I am convinced that your wedding should sound and feel like you. After all, if you're spending this much time, money, and energy on one day, it better reflect who you are as individuals and as a couple. Since my couples tend to be hilarious and really fun people, my ceremonies reflect that.
What is one of your favorite moments from a wedding you officiated?
Minister Marie: Oh man, after 600+ weddings, I've got tons! It always comes down to a moment when we get make the wedding personal and meaningful. Like recently when after I pronounced a couple at their Joshua Tree elopement, I cued their friend who serenaded them with their favorite opera song in the middle of the park. Or when I got to perform a wedding in the middle of a snowstorm at the top of Snow Summit for a couple on their skis all because they met while skiing. Or when I got to sneak in a blessing in French for a bride who was getting married here in the States without her parents, who were too ill to travel in from France. She cried and thanked me for giving her a little touch of home. It really is the little gestures that make the memories so sweet and unmistakable.
Do you have a favorite piece of advice for couples planning a ceremony?
Minister Marie: Go with your gut. I tell my couples all the time that there are only two responses to suggestions for your ceremony — either "hell yes" or "no." If it isn't "hell yes", it's a "no!" There's absolutely no room for 'meh' in your wedding ceremony. Go with what makes you smile, what makes you glow from the inside just thinking about it. That's where the magic happens.
To learn more about Minister Marie you can: