Our Backyard Joshua Tree Wedding
We'll be sharing stories from other couples soon, but we thought we'd start off our blog with the story of our own wedding.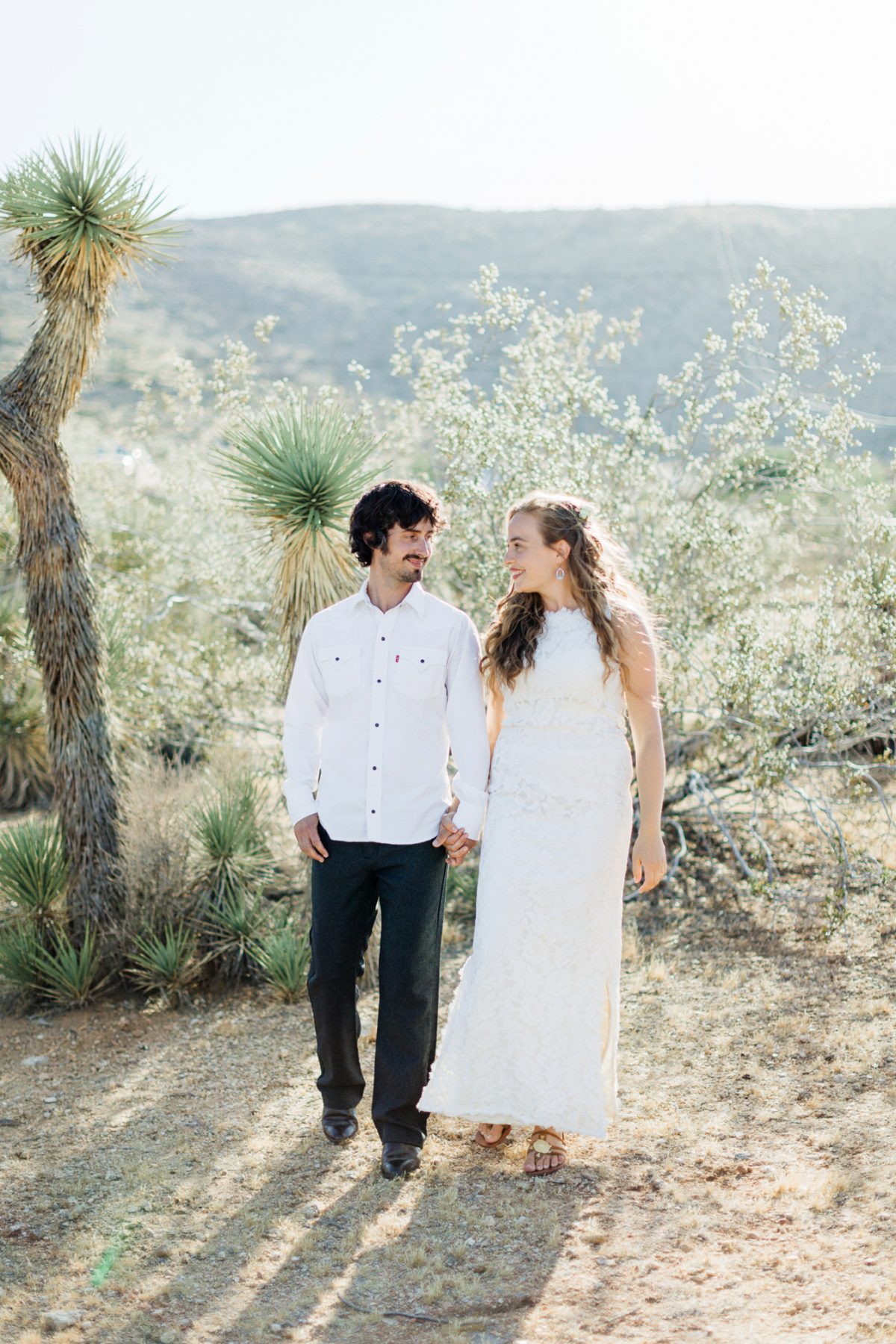 Our wedding story begins like most wedding stories—with a proposal.
Jim and I were halfway through a road trip around the US, camping in our truck and staying with friends along the way. Every year we celebrate the anniversary of our first date, and this was the 7th anniversary. That week we were staying with friends who own a farm in Wisconsin and serve pizza from their wood-fired pizza oven to picnicking visitors.
I had been thinking for a while that I wanted to propose but had chickened out, reasoning that, "people don't like it when women propose." Earlier in the month I had decided I would do it on our anniversary, but as the evening drew nearer I was losing my resolve.
But then our friends gifted us with a bottle of champagne to go with our gourmet pizza and as we sat down on the fresh grass, looking out over the fields as the sun was setting, I thought to myself, "Just do it!"
I turned to Jim and said as casually as I could, "So, I was thinking for our anniversary next year we could get married …" Once he got over his surprise at getting proposed to, Jim said yes, and quickly fashioned a ring for me out of a piece of clover. He picked out a beautiful ring with a Zuni inlay a week later on a rainy morning as we passed through Deadwood, South Dakota.

It seems like it's still rare to hear about women who proposed to their boyfriends. I'm glad that I did it and love the story of our proposal. So if you're thinking of proposing, I say go for it.
We didn't think much about the wedding for the first six months we were engaged as we were consumed with moving to a new town (Joshua Tree) and getting our business going again after several months on the road.
We agreed right away that we wanted a small and simple backyard wedding but we didn't know where that backyard would be, as we weren't sure if we would still be in our rental house or—as we secretly hoped—in the backyard of our very own house.
At a local holiday fair we discovered a jewelry maker, Lili T., who makes silver and bronze jewelry in her studio just outside of Joshua Tree.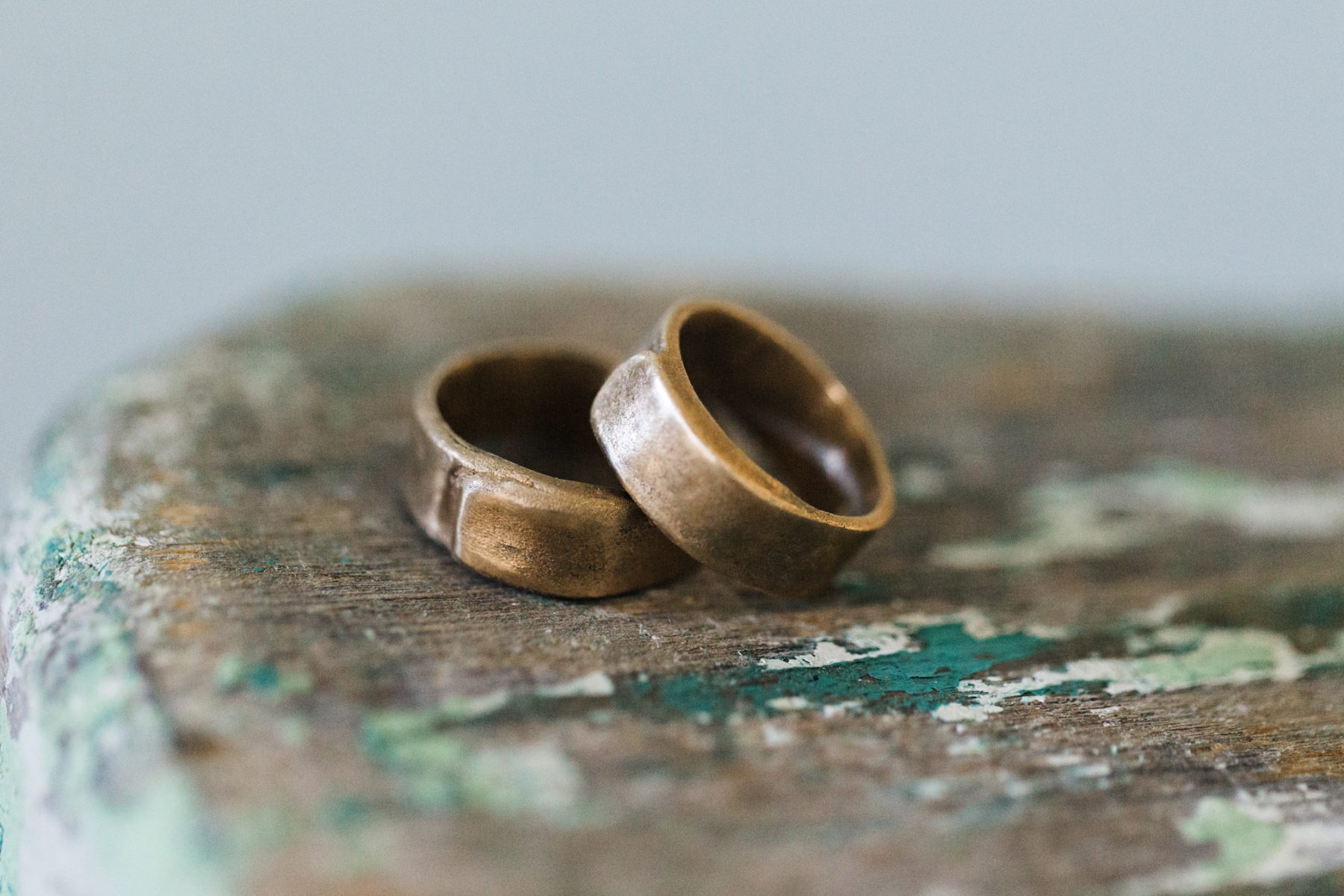 We loved the look of her bronze rings, still a little bit raw, each a little different from the other. She had one that fit Jim perfectly but none were quite my size so she offered to make me one for my ring size. She ended up making several rings and let me choose which one I liked the best.
Since our wedding was going to be an outdoor ceremony and we knew the weather would be warm here in the high desert in June, one of our main requirements for our wedding clothes is that they not be too hot.
Lots of women have an idea of what kind of wedding dress they want, but all I knew was that I needed a dress that would stay in place even in high winds—a good thing too as we had 50 mph gusts on our wedding day! I wanted a white dress, but not necessarily a true "wedding dress." I was hoping I could find something unique at one of the local vintage shops.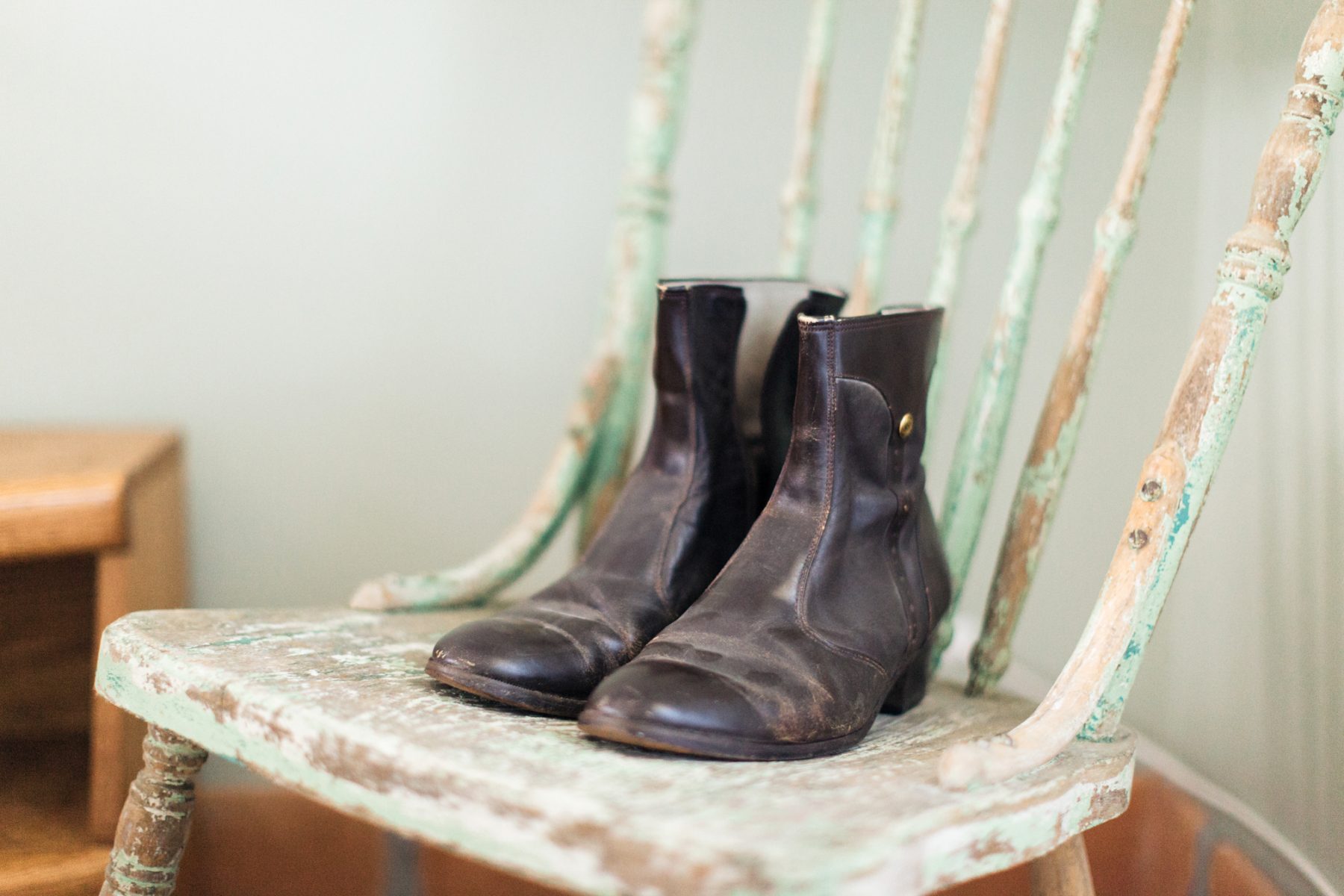 On the very same day that we found our rings, we walked further down the street and visited for the first time what became one of our favorite Joshua Tree vintage shops, Moss & Ginger. Jim got his shirt, pants, and even his boots there.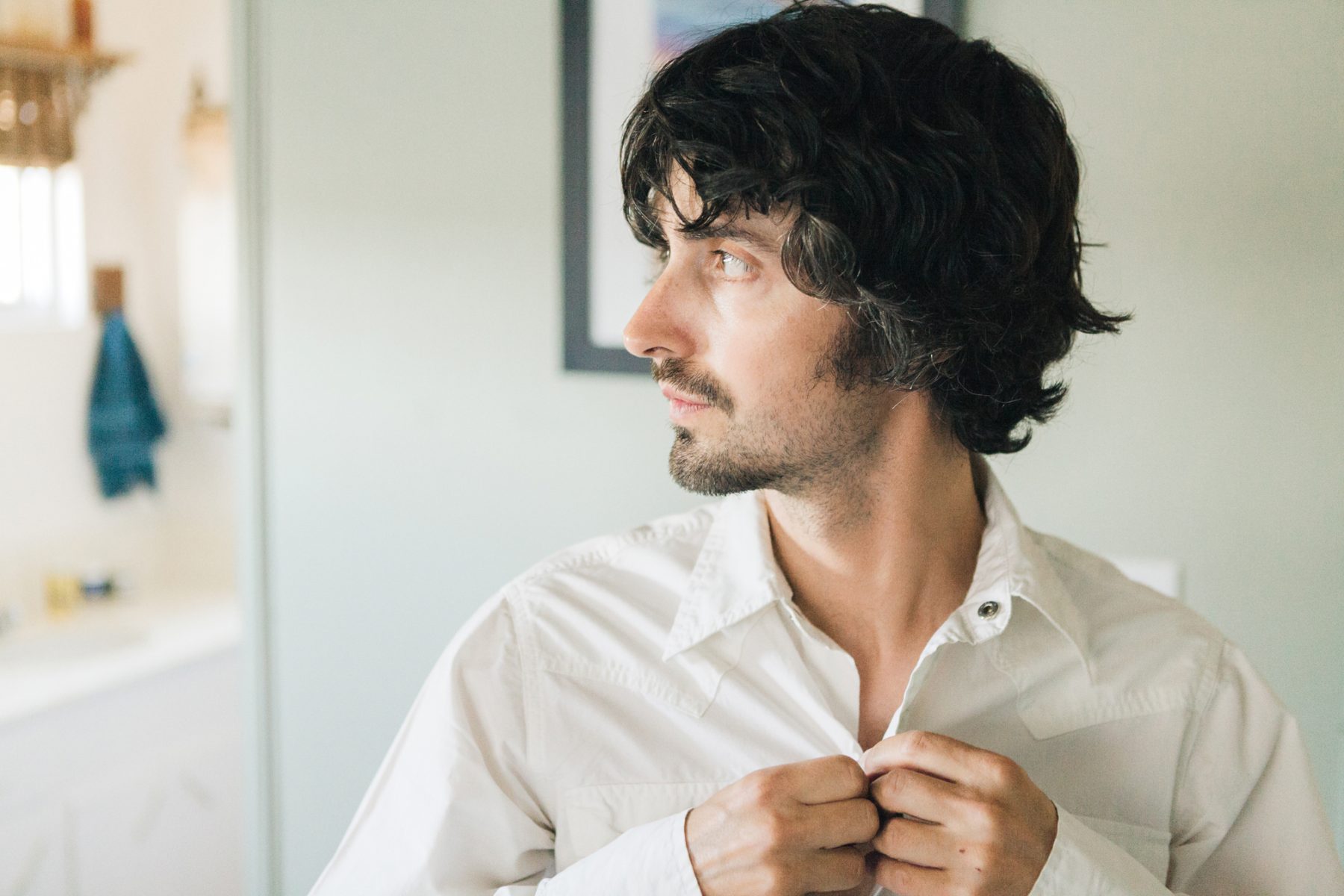 They didn't have any white dresses that I liked the first time we visited, but Joel, one of the owners, promised too look through their huge selection of clothes they had at home from their larger Pasadena store they had just left and bring some more dresses in for me to try.
When he called me a few weeks later I had my fingers crossed! I wasn't sure how likely it would be to find a dress that fit—and that I liked. The only thing I had requested was "something white, no sleeves."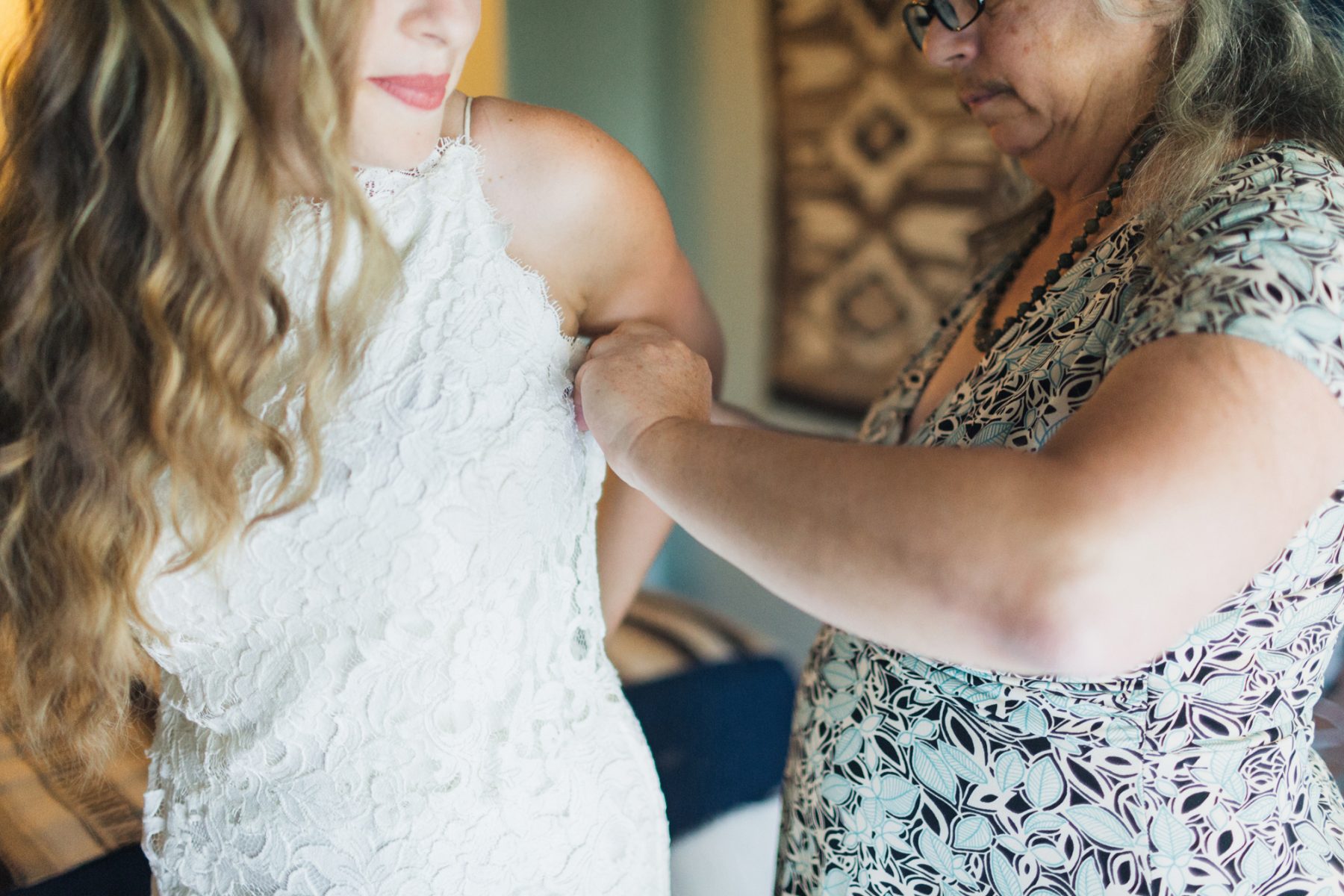 Continuing our less-than-conventional engagement, Jim came with me to look at the dresses, and was even in the fitting room helping me get zipped up when I tried them on. There were just a few that looked like they might be my size, and on the hanger I didn't think they looked too promising but I picked two out to try on.
The first one fit, and I liked it OK—but then I put on the second one. What had looked like a slightly shapeless antique lace dress on a hanger turned out to fit as if it was made for me. I loved the lace, the length, the boat neck, everything about it. Standing there in my dress with Jim looking on, it finally felt like we were really getting married!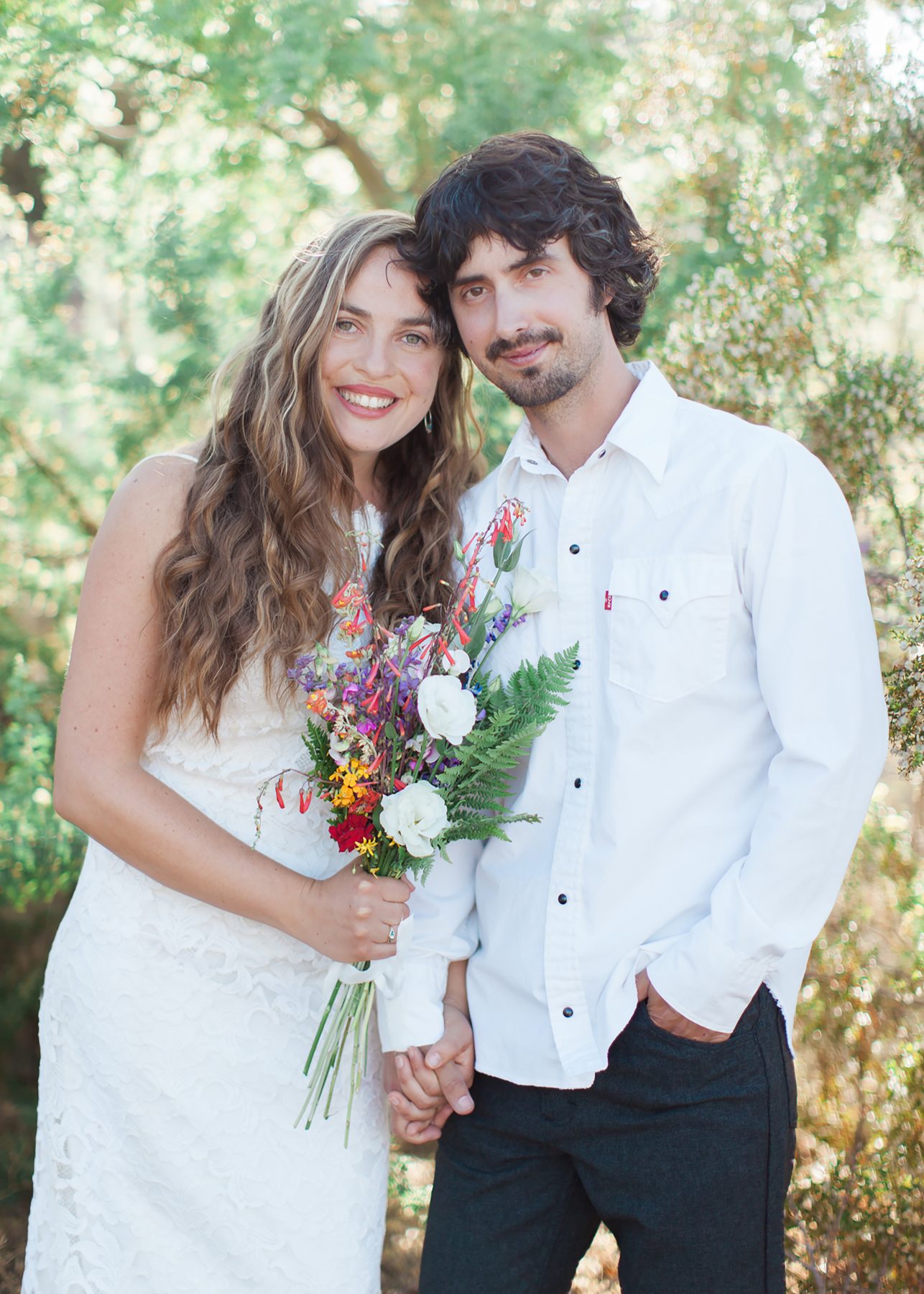 The main question was — where?
Since we had said we would start looking for a house to buy "next year" we started January 1st.
It seemed like house buying was going to go the easy and magical way of our wedding ring and clothes buying. We liked the very first house we went to, a big house with an amazing view into the national park in the Upper Friendly Hills area of Joshua Tree. We made a bid on it a few days later and waited anxiously, frequently driving by and picturing living there.
We were outbid on that house and didn't get it. Infected with real estate fever, we started checking the real estate listings online multiple times a day, jumping in our truck to drive by any new listings as soon as they came up. But we just couldn't find a house that we liked. It felt like we were looking for something that just didn't exist and after looking at over 20 houses we were getting ready settle for something even if it wasn't quite the right fit. It was our first house after all.
One day, driving back from yet another house that wasn't right (too small, strange yard), I muttered out loud, "I love this street. I wish there was a house for sale on this street that was the right house for us." Just then we passed a real estate sign. The house looked great from the street. Probably out of our price range, we thought.
When we got home we checked the real estate listings but couldn't find it anywhere. We decided it must have already been sold and the sign was still up.
The next morning I checked the listings again and there was the house! In our price range! It hadn't even been put on the market yet when we saw the sign the night before. We called our realtor (Bryan from JTM Real Estate) and went over immediately.
This is it, we told him. This is the house, THIS IS OUR HOUSE! We couldn't even look at the yard and house properly we were so excited and worried we wouldn't get it. We made an offer that afternoon.
On that same day, five other people also made an offer on the house, so we had to make a second offer. This time we wrote a letter to the owner, describing everything we loved about the house—the amazing yard art she had created, the feeling of the house, the yard, the view, how we planned to get married there and start a family.
And then … we got the house! Four months before our wedding we moved in, remodeled the garage into our photo studio, cleaned, painted, got settled and then thought, hmm, maybe we should get around to planning our wedding!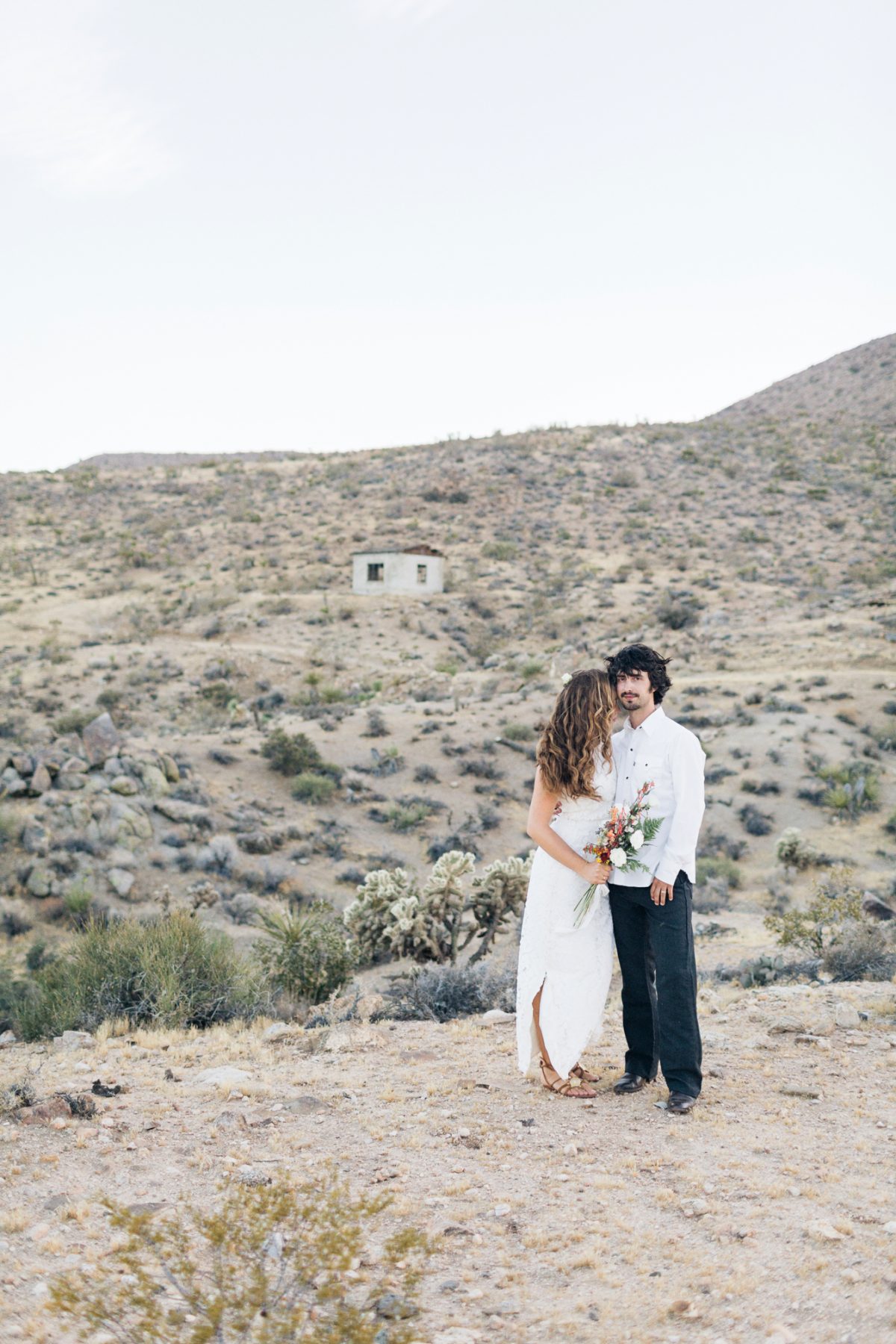 We wanted to make sure we had beautiful photos for the wedding so we got in touch with a Palm Springs wedding photographer whose work we loved, Katie McGihon. I was nervous that it would be too late to book her, but since we were getting married on a Thursday we were lucky and Katie was available.
She and her husband Scott have a real gift for getting people to be comfortable in front of the camera, which was great for Jim and I. We loved all the photos they got of us, the ceremony and the sweet group and family pictures they took.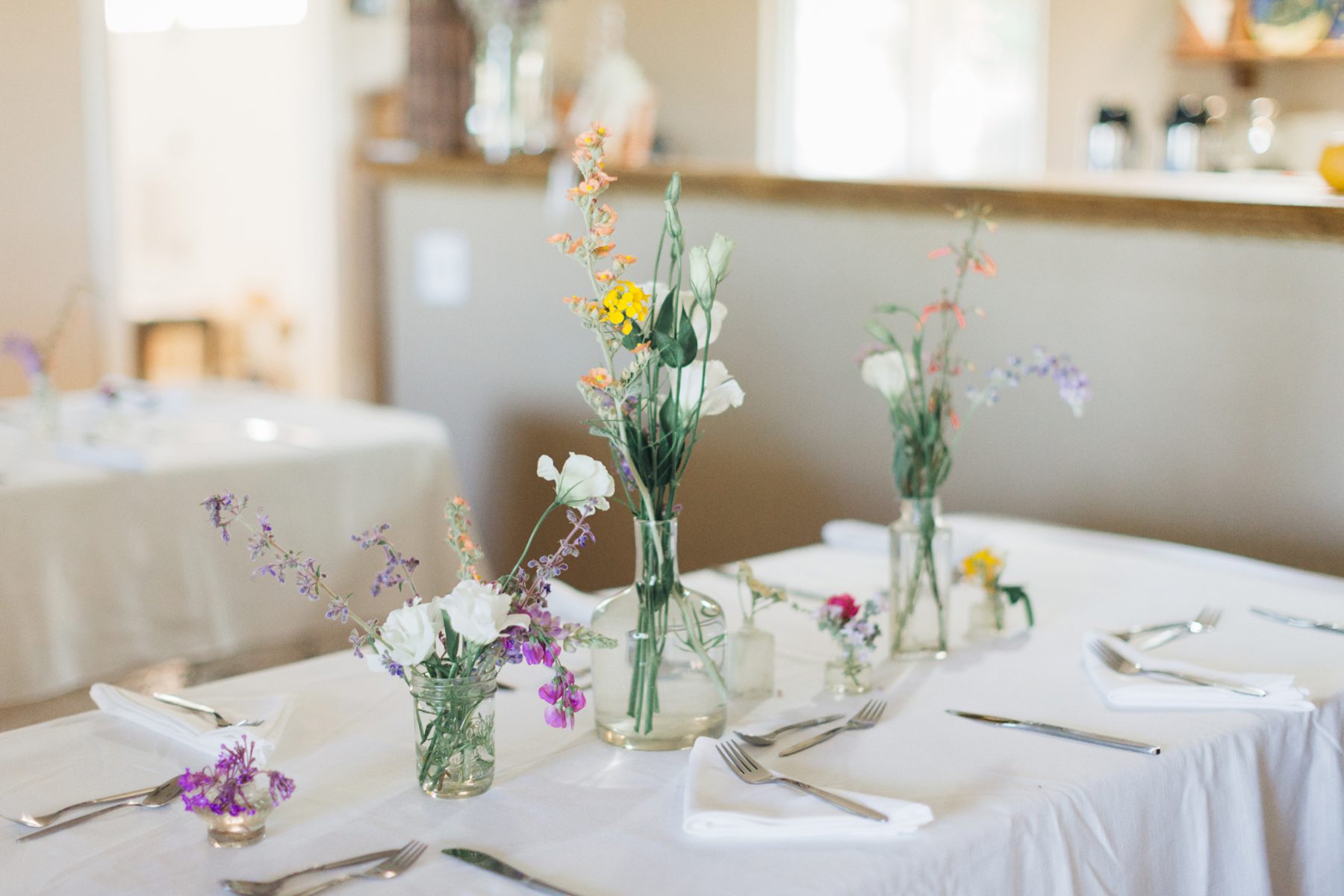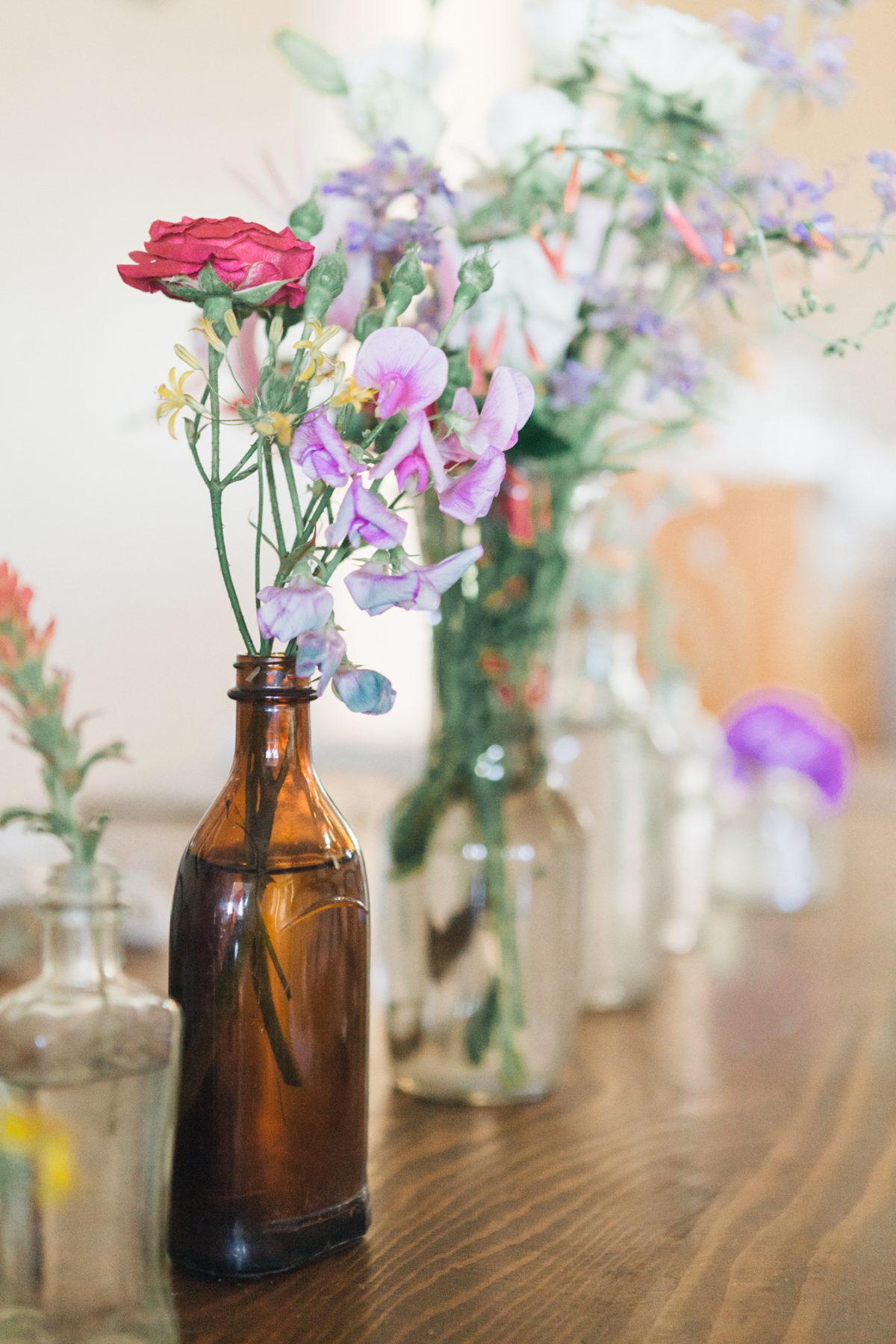 We kept things simple as far as decorations went. We wanted the focus for our wedding to be on the celebration and ceremony and time with friends and family and we didn't have time for anything elaborate. We bought some cool letterpress cards with succulents on them from BKB Ceramics in Joshua Tree and hand-wrote our invitations. We rented chairs from Pena's Bridal and Party Rental in Yucca Valley and borrowed the extra tables that we needed, which we covered with tablecloths that had belonged to my grandmothers.
The only thing I knew for sure I wanted for the wedding was a bouquet of wildflowers. My mom and my best friend Erin picked wildflowers in the mountains near Idyllwild and brought them down with them on the morning of the wedding. Erin arranged the flowers for me in antique bottles that we found in the yard of our new house.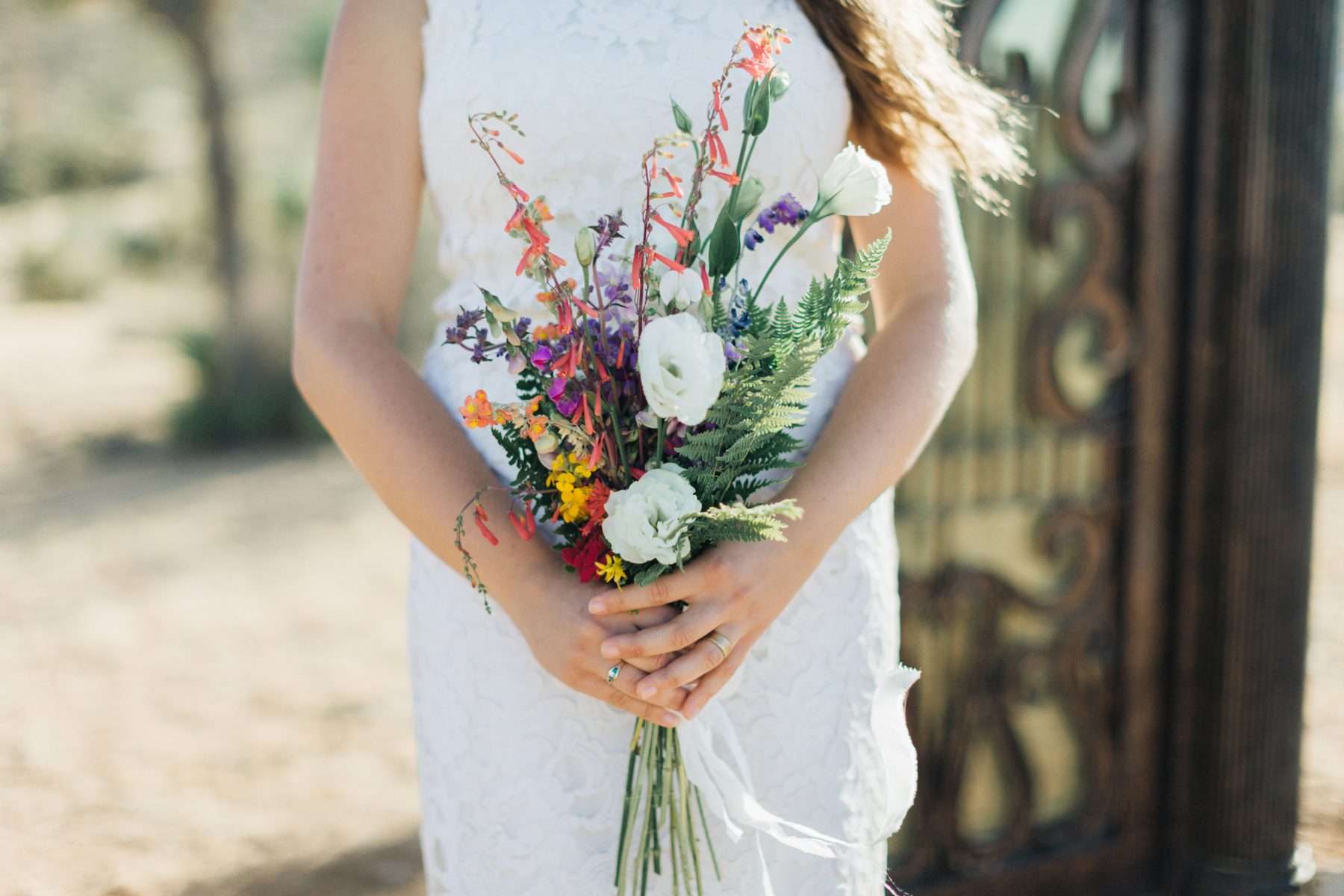 I wasn't sure how romantic our wedding day would feel. It's easy to get caught up in the details — the dress, the flowers, and so on. There's something about the idea that you are supposed to feel more romantic than you ever have before that put me off. I thought it would feel forced.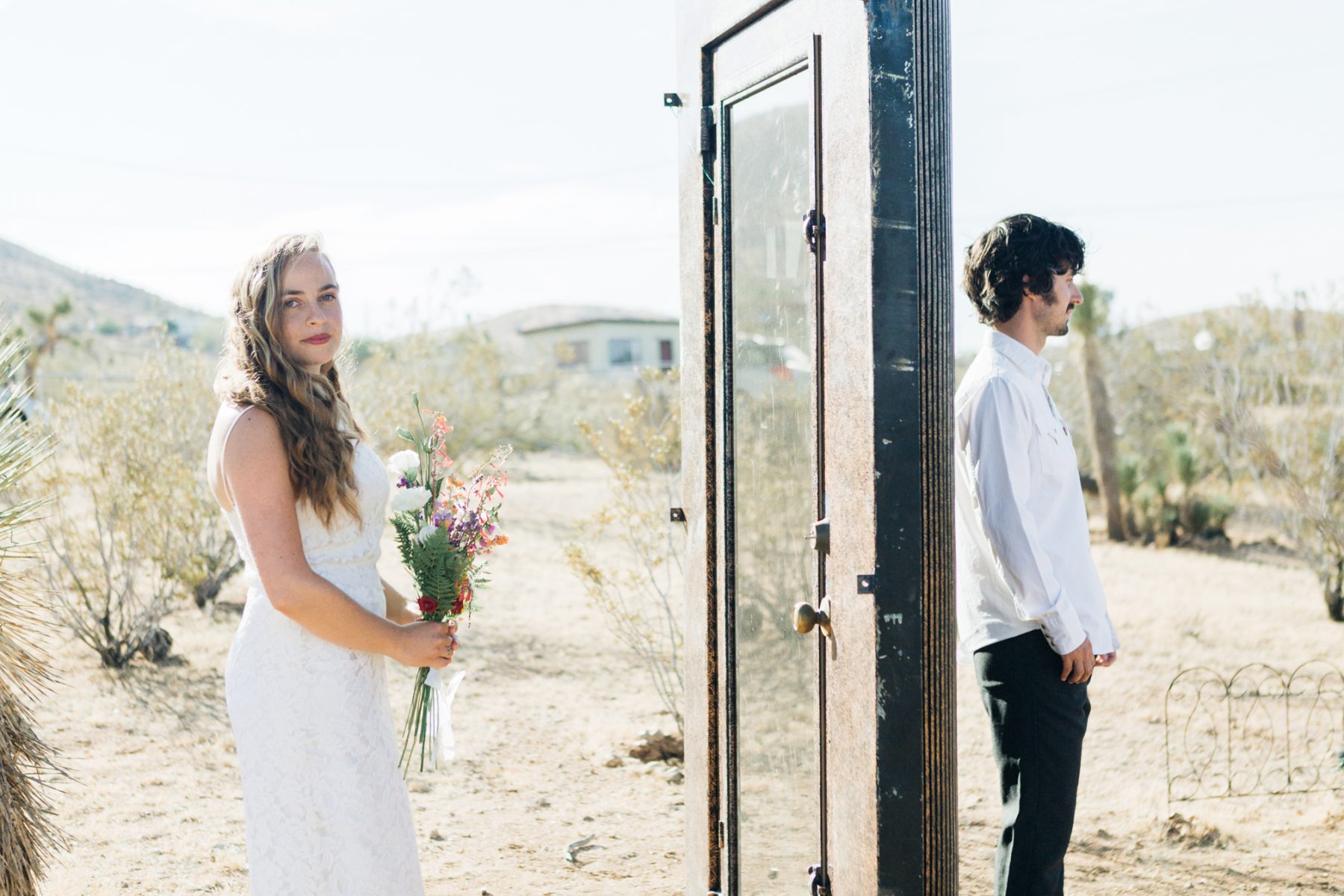 Luckily I was so wrong! We did our first look at a freestanding door in our yard that the previous owner had put up and as I walked through the door and saw Jim waiting there it really was one of the most romantic moments of my life. And then, at sunset, the mountains behind us painted pinks and purples, the sun slipping below the hills, my dad walked me down the aisle and it was really happening! We were getting married!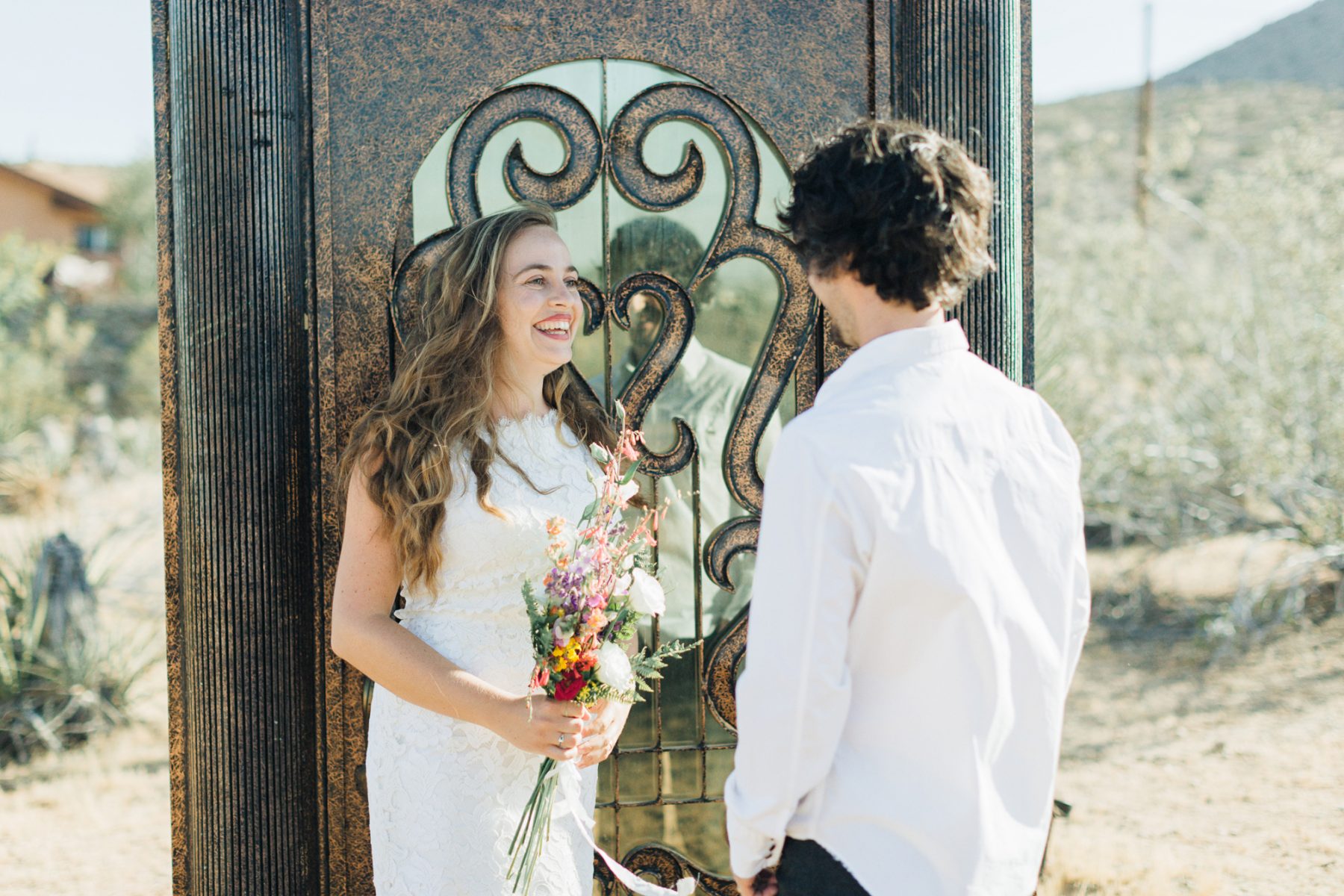 Our ceremony was officiated by Jim's Zen teacher, Tenshin. We based the ceremony on a Buddhist ceremony but modified some of the language to make it more non-denominational, and included saying our own vows to each other that we had written.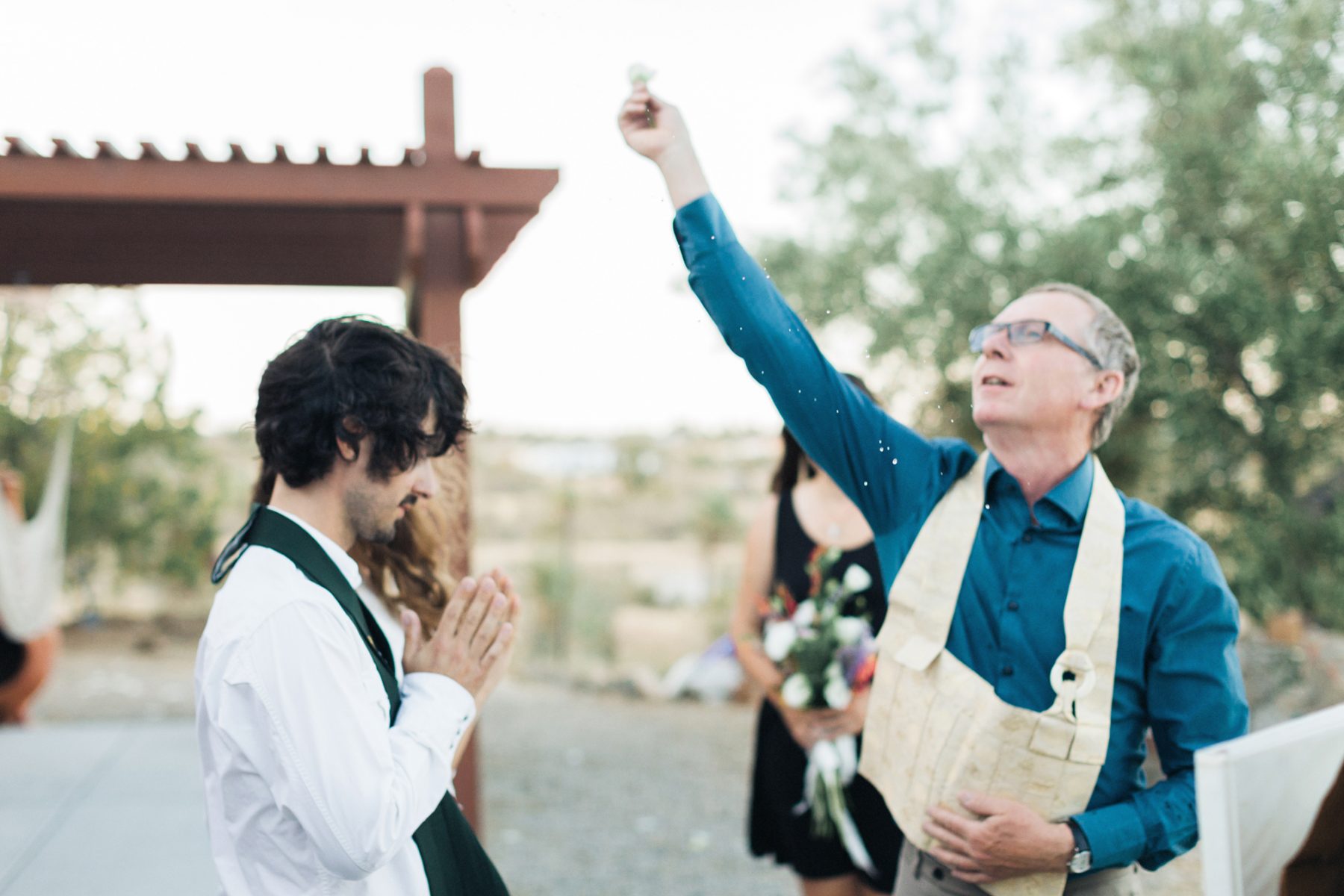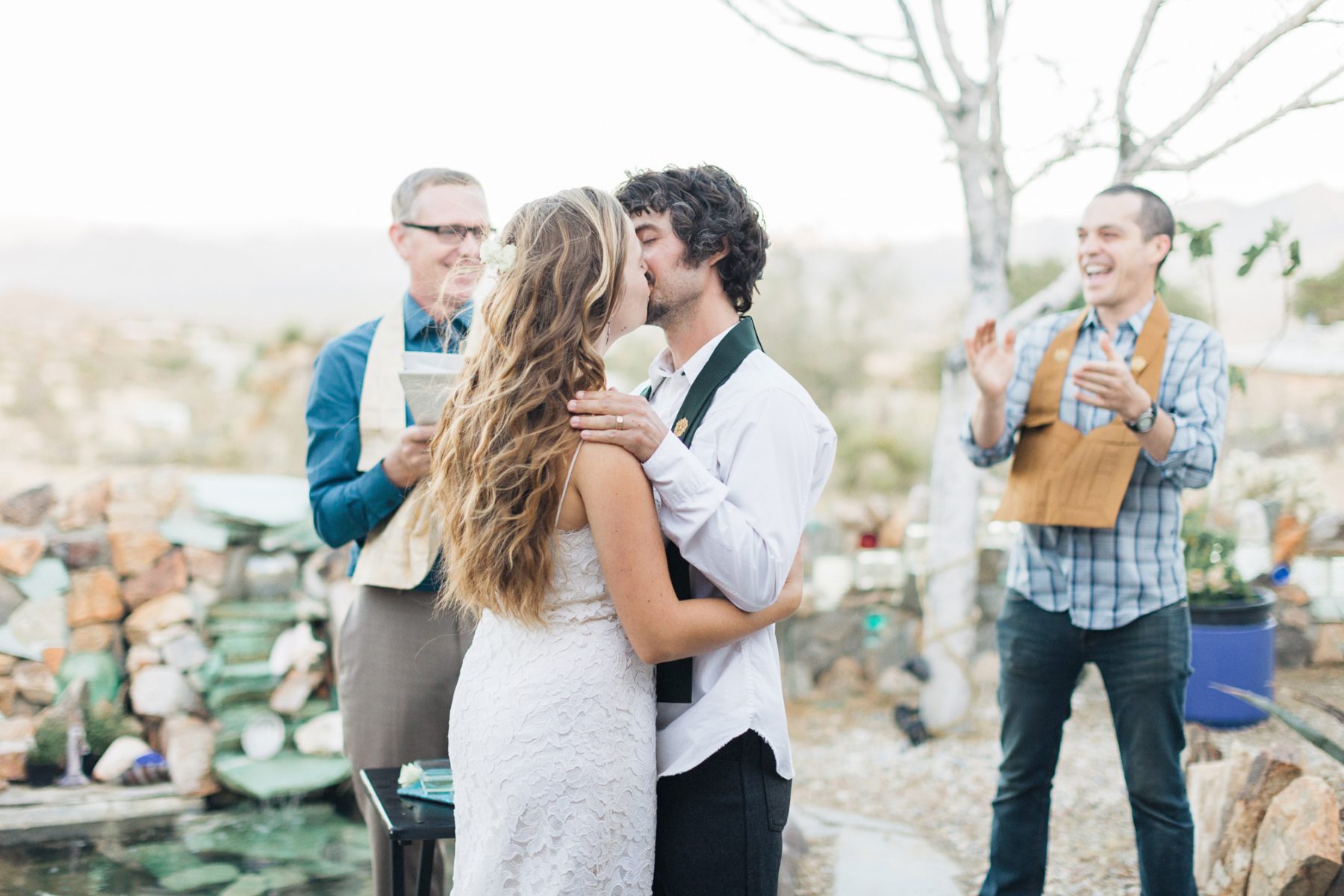 It was so dreamy I didn't even notice the high winds. A tip for you brides—if you know it's going to be windy, make sure you will be facing into the wind during the ceremony, especially if you are wearing your hair down.
After the ceremony we snuck away for a few more photos with Katie and Scott and then we headed in to eat dinner with everyone.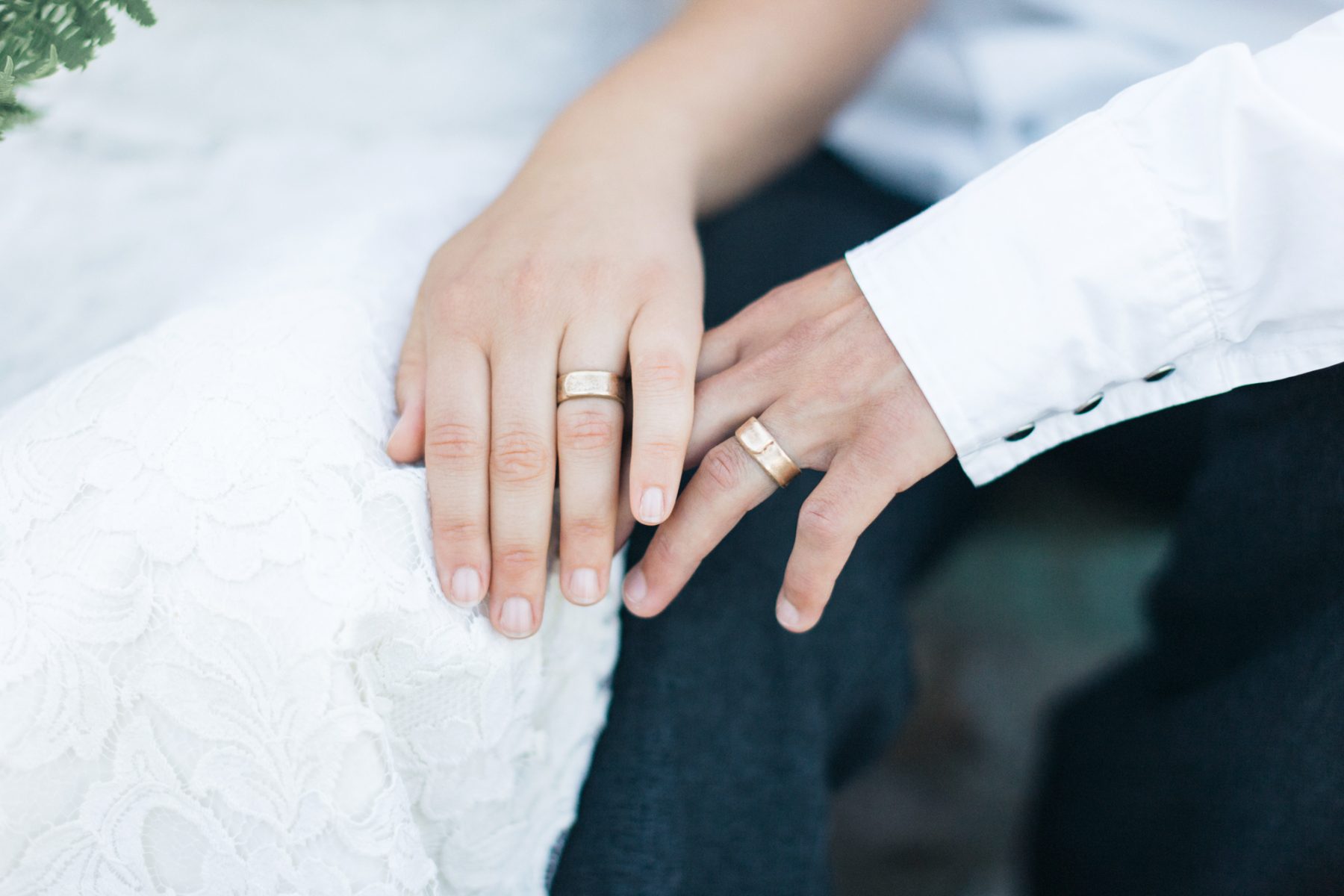 Because of the wind we couldn't eat outside, so we cleared out the couch and other furniture and managed to squeeze all the tables for everyone to eat inside. We got our food from our favorite Middle Eastern restaurant, Joshua Tree Hookah Lounge and served it buffet style.
Our cake was a delicious vegan carrot cake from the Natural Sisters Café in Joshua Tree which we topped ourselves with succulents from one of my favorite places in the world, Cactus Mart in Morongo Valley.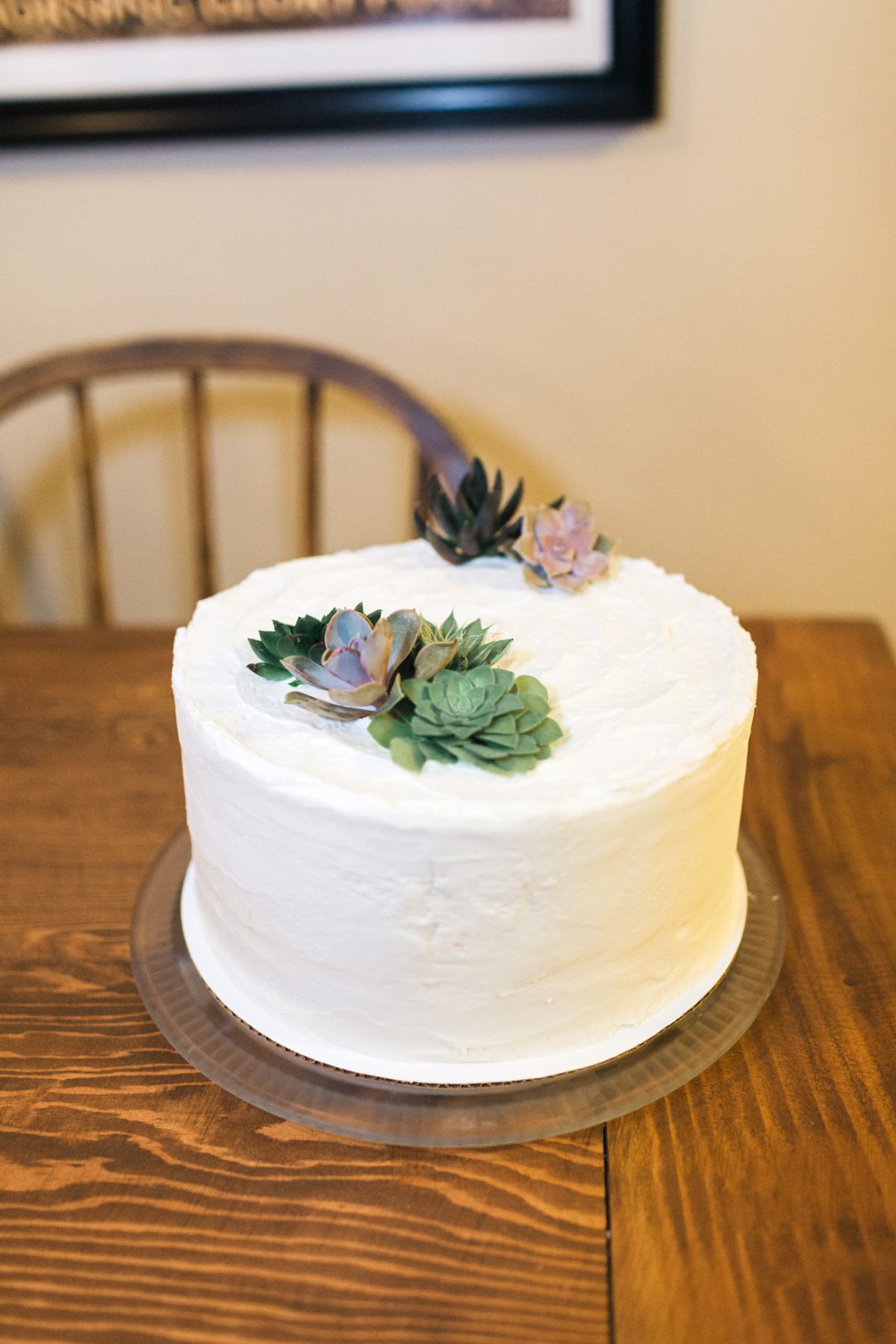 After everyone left for the evening, we shared our first dance in private, barefoot on the back porch of our first house, the stars out, fairy lights lighting up the trees, exhausted and excited for our new life together.