Sarah & Jayrom's Love Story and Palm Springs Wedding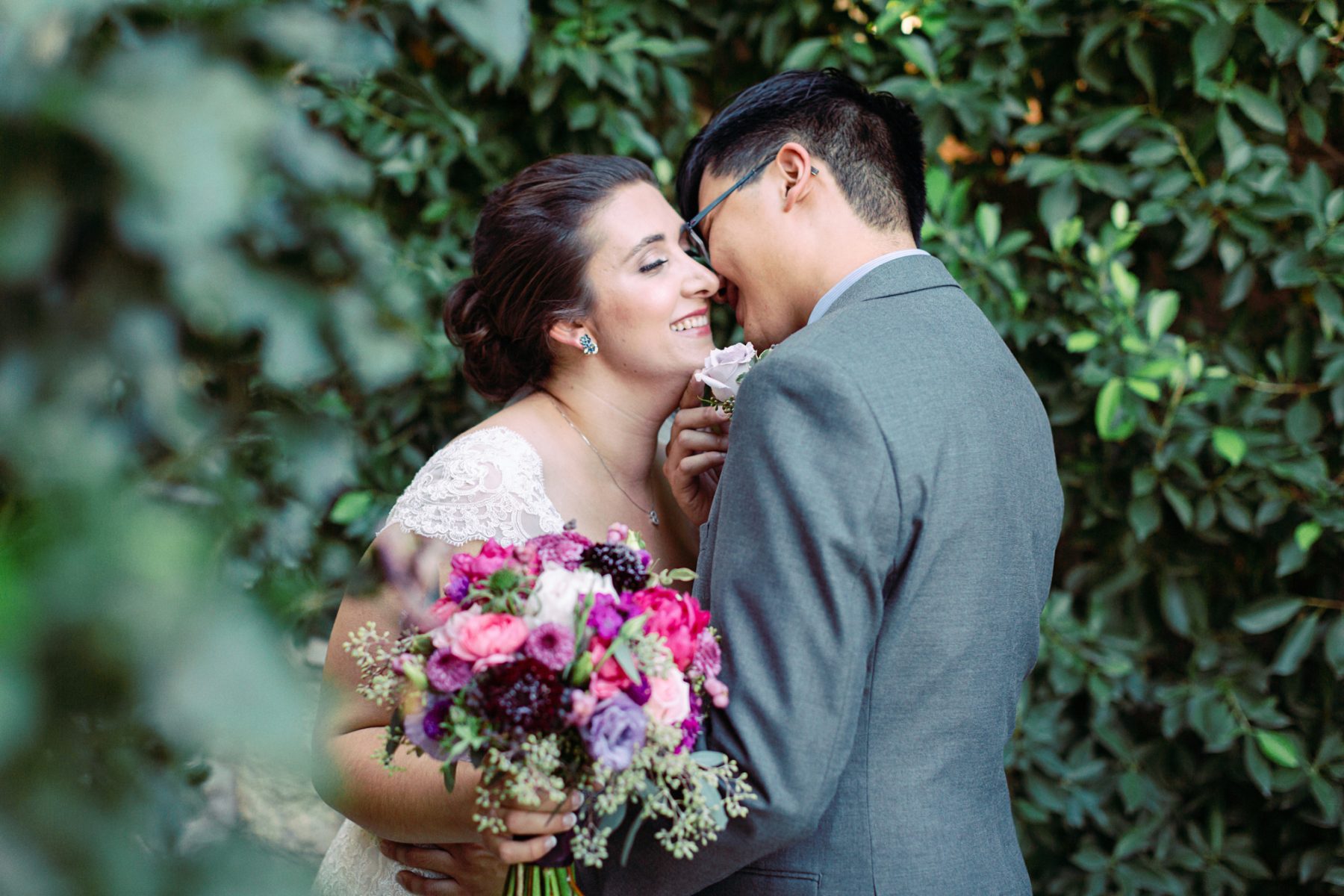 When we filmed Sarah and Jayrom's romantic wedding in Palm Springs last November, we were touched by the sweet, steady love they had for each other. We knew they'd have great advice for other couples, so we invited them to write about their story and wedding for the blog.
We didn't know what a treat we were in for! It's not often you get to hear the groom's perspective, and Jayrom is a great writer and a true romantic. Whether you're looking for inspiration for your own wedding or just like a good love story, you're going to love this interview.
How did you meet?
Jayrom: Before iMessage existed, or Facebook, maybe even MySpace, there was a program called AOL Instant Messenger. One of the popular features of AIM were Buddy Profiles. If you remember, these were simple text spaces associated with your screen name, almost like a text based Facebook. Sarah happened to stumble upon my buddy profile through a mutual friend of ours. However, I had a tiny script embedded in mine that showed the person viewing the profile their internet address.
"Um… hello. Are you hacking my computer?" were the first words Sarah had ever said to me.
After explaining what happened, many conversations passed by online, several phone calls were placed, but we still had never met each other in person, or in internet lingo at the time, IRL (in real life). She was the first to overcome the common trait we each had, shyness. I was in band. She knew a few people in band. Those people knew me. Then one day after school, during band practice, I hear my named screamed well across the lockers.
"Hey Jayrom! Someone is here to see you!"
My heart skipped. She never told me. I still knew. It was her, she was the one waiting outside the double doors… That was our first time meeting. IRL, this time. It was real.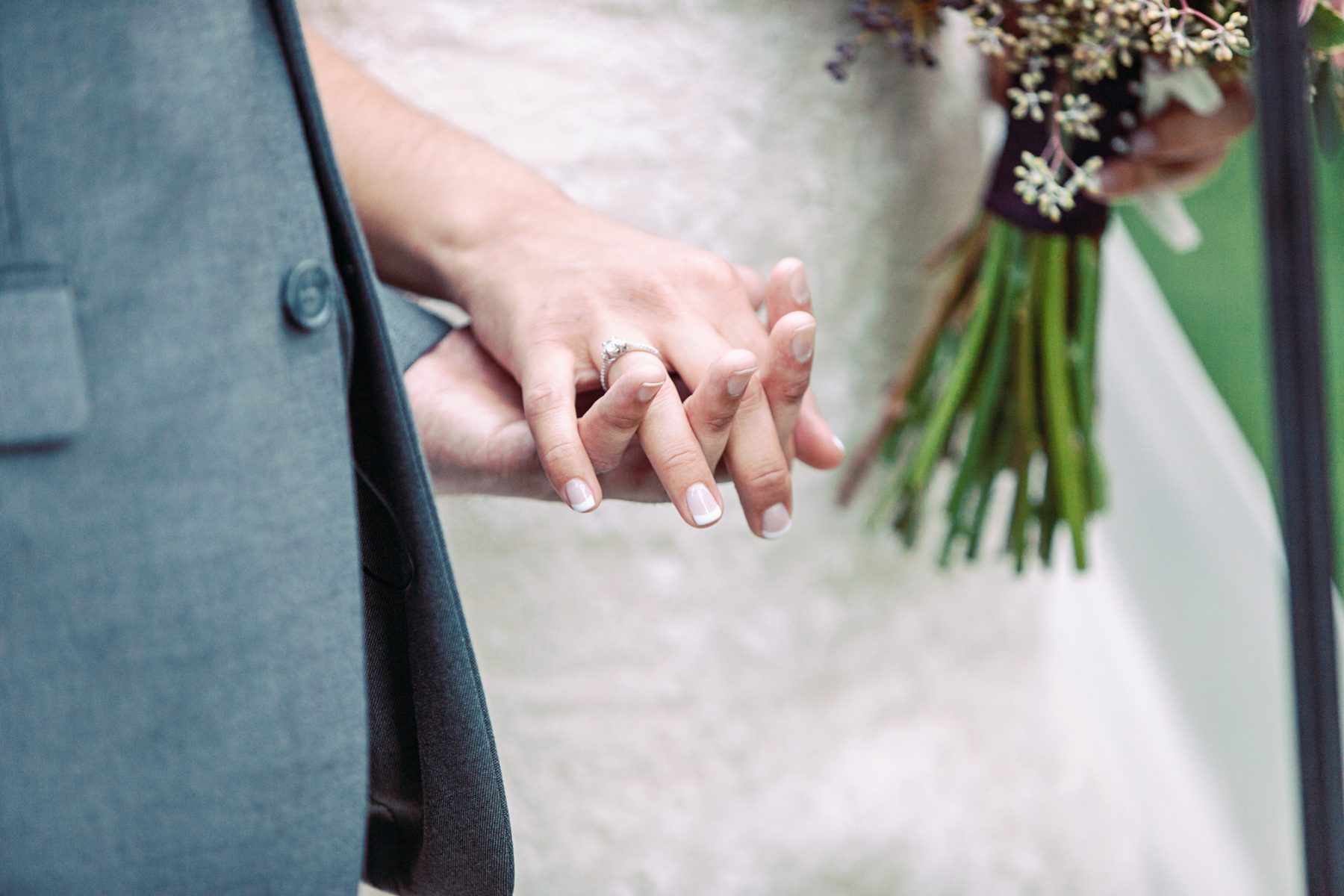 What's the story of your proposal?
Jayrom: I'm pretty sure I was able to surprise Sarah with the proposal, but I think she had an slight inkling on what was going on. It all started a few months after I finished my Doctorate in pharmacy school, I was working as a resident. Finally had some of my own spending money, some room to stretch out my legs on my own and try to do what we wanted. This year was the first year we were able to finally start traveling on our own. It was one of the first long weekends we spent together, out in San Diego. We had light plans, go for a hike in Torrey Pines, eat at popular local places like Orange Blossom Cafe, and the most important thing was, just cherish the time we had together…
It was that Saturday, an early Saturday morning. I was up, well, I probably didn't really sleep at all, but I woke Sarah up early. Kept poking at her to get going so we could make it to Torrey Pines early that day for a short hike on the Guy Flemming Trail. She finally rolled out of bed and we got going from our hotel on Shelter Island. We had to park far… it was already pretty crowded, but I still went with it. I had gone too far to just put this off any longer. We finally got to the trail head, and there we were, picking which direction to go. Left? Right? Left. I could see that overlook I knew that would work, but it was crowded. We resumed the hike. I'm not sure if it was chance, or something called fate, but as we got closer, the people started to move on, and the people behind us must have gone the other direction. We were alone. Just like two shy people would prefer. It was intimate yet refreshing with the cool ocean breeze blowing in our faces as we sat there on that stone made bench.
"Hey Sarah, you know I don't normally lie, but I've lied to you one time this trip so far. Think you'd be able to guess it?"
"Um… you got me a puppy!"
"No…"
"Um… you got me a penguin?"
"No!"
"I'm not sure then…."
She nervously laughs.
Perhaps it was something, but Sarah and I felt always have this strong sense of trust with each other. It was like we already knew we would end up together for life, married, growing old. But I kept her waiting, going through school, finishing up my doctorate, now doing a residency program. It had been about 10 years together. She would always point to her ring finger on her left hand. Joking about it constantly. This trip was no exception.
I reached into my left pocket. There was this red box she was familiar with because her mother had several of these boxes. It was from a jeweler close to them. It wasn't just that ordinary red box, it was a red box with something in it, something just for her. I pulled it out. This time I had a ring for that finger she'd constantly point at. Tears rolled down, gently caressing the ends of a giant smile on her face. Her eyes, eyes I've fallen for many times, big as ever.
"Will you marry me?"
We're currently about two and a half months into the next chapter of our lives, happily hugging each other, still in love with one another, living this ordinary time one day at a time, cherishing every special moment that passes by.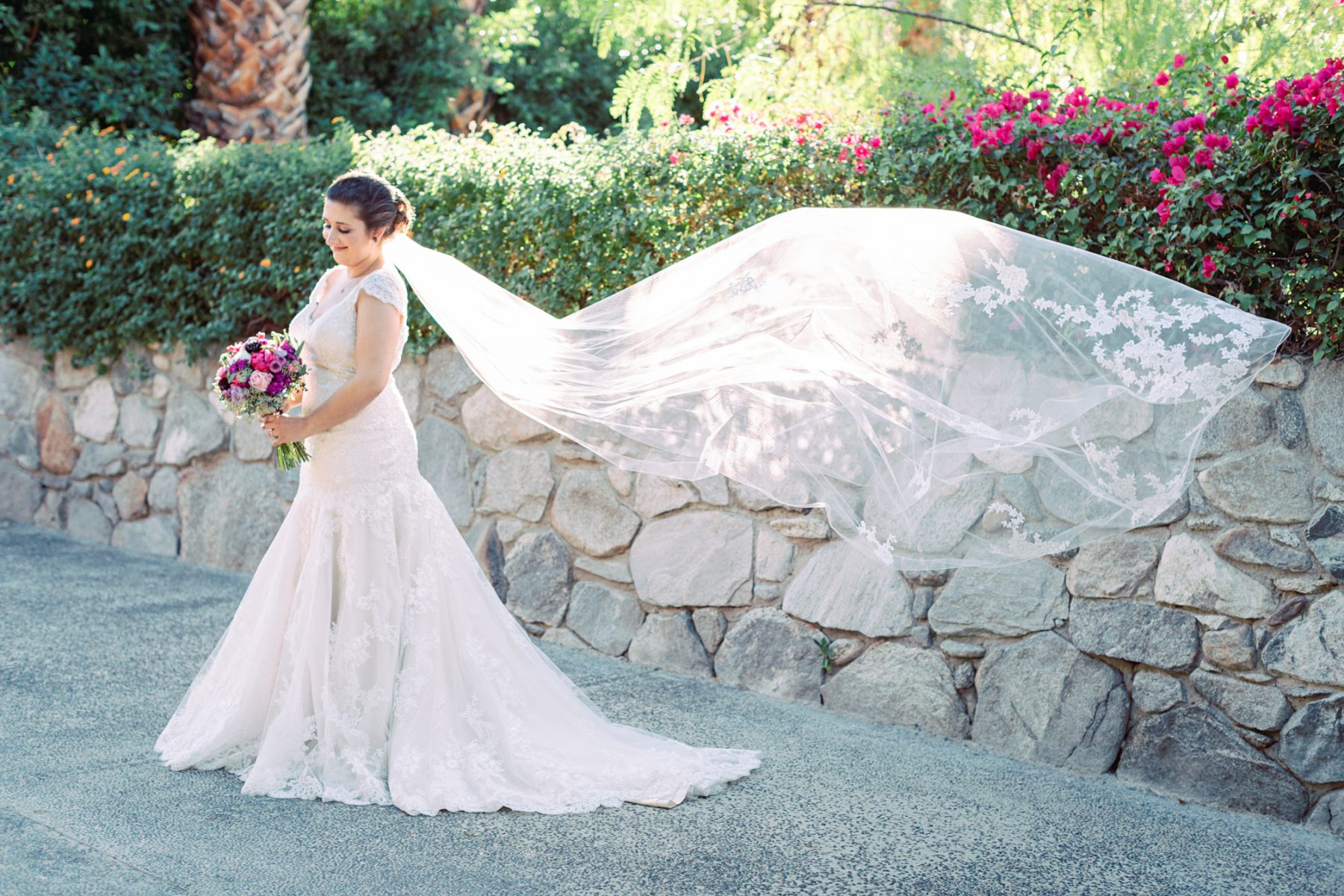 What were the best and the worst of parts of planning your wedding?
Jayrom: We have to agree the best and worst parts of planning our wedding were the choices. It was awesomely fun to be able to brainstorm and choose our colors, the food we wanted, linens, the venue, and so forth. Being able to go from caterer to caterer, seeing what they would do for us, tasting what they thought we would like. But this is a double-edged sword. You end up liking almost everything. Having to make the choice is the worst part because you are torn. You like this and that, do you like this more than that, though? Would that work with the budget? Would that work with that other thing we just decided on? Wait, can we go back and change what we just decided on to make it work with what we want now? It was really fun being able to see and experience so much during the planning stages, but when it comes down to it, to make those decisions, those were the worst parts, especially making them weeks before the big day!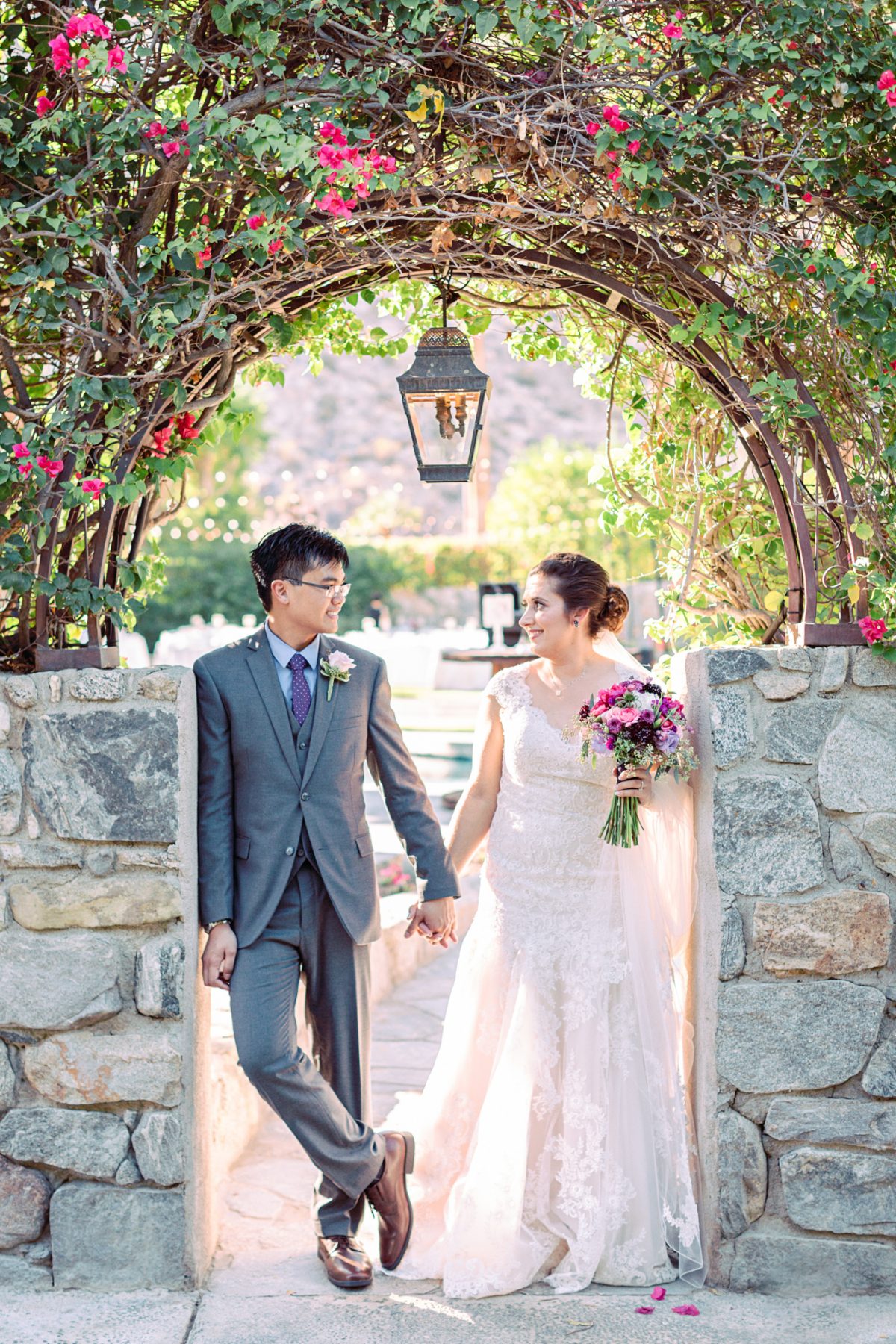 Any advice for other couples planning a Palm Springs wedding?
Jayrom: Give your self time, plan your time, and don't lock yourself in. Palm Springs and its adjacent areas have many options for almost any budget. You have your range of venues, from fancy boutique hotels, to larger country clubs, all the way down to private estates; oh don't forget the beautiful desertscapes and mountain views. Use that time wisely though, keep at it daily, little by little, piecing your dream wedding together. You'll need lots of time to see all your options, but you need to remember to not take it for granted and just work on it day by day so when it comes to the few weeks before the wedding, you won't be overwhelmed.
Anything you would do differently now that it is over?
Jayrom: As we mentioned up above, the most stressful times were the weeks going into the wedding. We'd probably like to have taken advantage of how far we started planning compared to the actual time we used planning. We started about a year and a half planning, but it wasn't continuous, we procrastinated in some areas, and as it got closer, pressure increased. We would have loved to have taken the opportunity of starting early and continuing to utilize this so it wasn't so stressful in the end.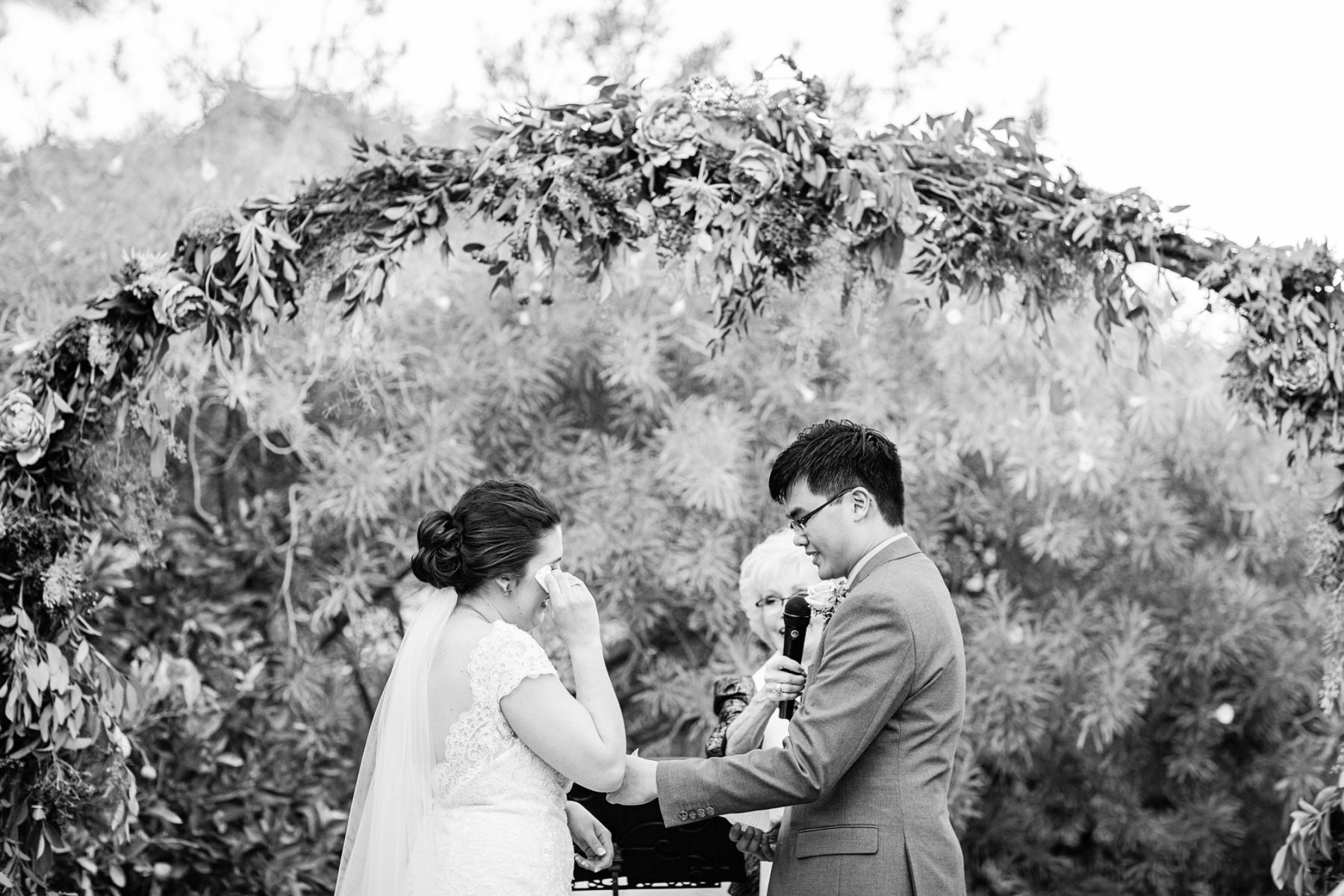 You guys had the most beautiful vows! Did you spend a lot time writing them? How far before the wedding did you write them? 
Jayrom: Earlier on, I mentioned how somehow we knew we would end up together. We spent a lot of time writing them. It started when we first fell in love. Our vows were built upon the time we spent together. This was our inspiration for writing them. Sure, there were times we'd hit a writers block, but you just need to think back on who you are together.
We knew we would do personal vows. Sarah probably started about half a year before the wedding to write hers, while I was already set. I did tweak mine about three months before. But, wow, when you're in front of each other, reciting it, it will still be like you wrote them that day.
Any advice for other couples thinking of writing their own vows?
Jayrom: Dig for inspiration from what both of you share. Think about the simple things you enjoy together, what shows you both like, what songs you feel are important for the both of you. Books  and movies you both enjoy and what their themes are. Then just write. It doesn't matter if it doesn't make sense, just write the words or phrases that come to mind. Writing vows is more if a jigsaw puzzle than a feat of creation. You will know all the words and promises you want to say to that person you love, you just don't know how to piece it together yet. So put it all down and start putting it together in the ways you heart sees fit, and your brain says it makes sense.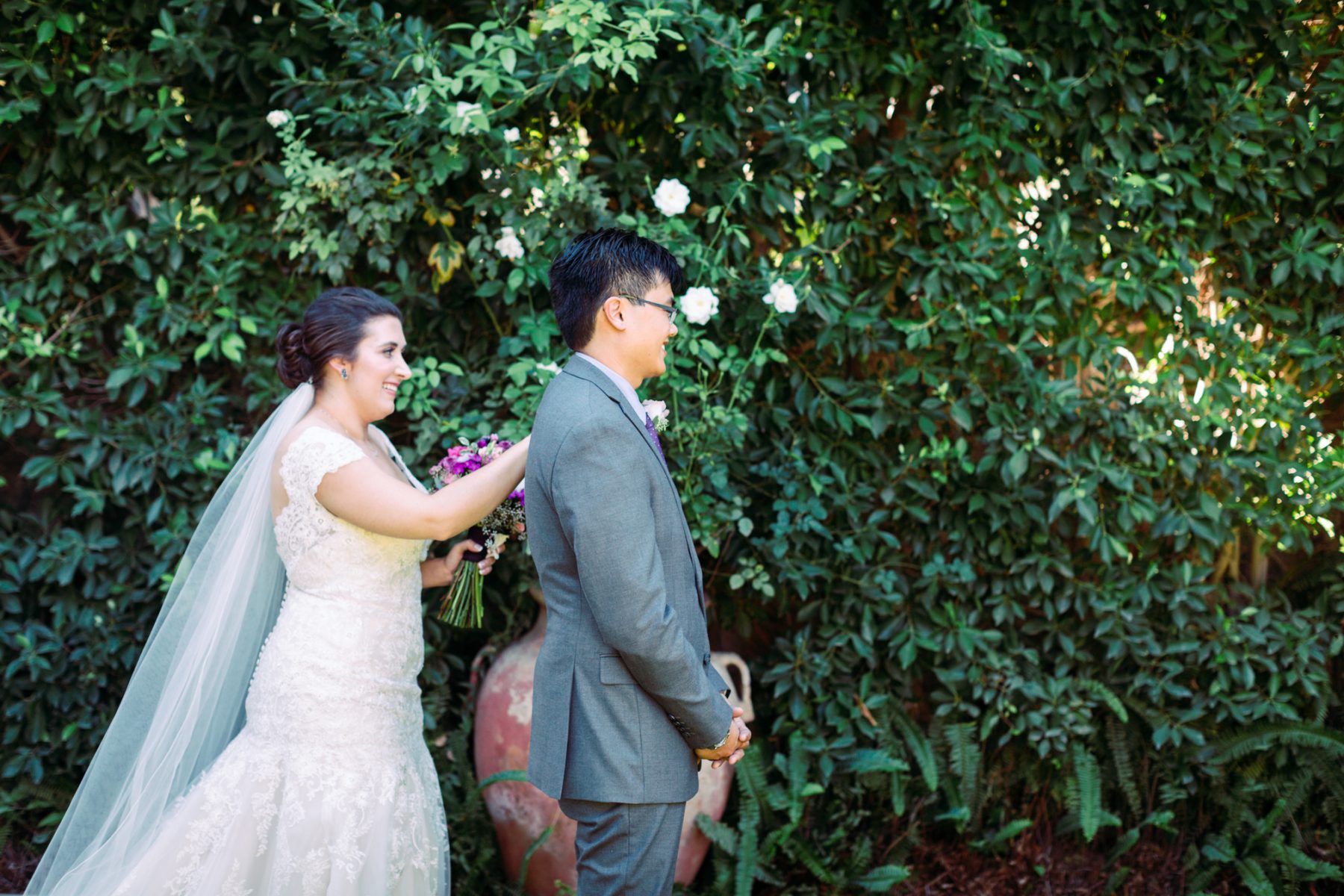 What was your favorite moment (or moments) during the wedding?
Jayrom: I think my favorite moment during the wedding was when it was all done, people had left, we'd retreated to our guest house. Going in, we would see vases that held the bouquets, a couple slices of cake that were thoughtfully saved for us. The lights were warm that night, but the air was cool. We sat there exhausted, her in her beautiful dress, we just sat there on the day bed looking out the window. I know this was my favorite moment, because it felt real. We'd gotten married, and now starts a new chapter.
For Sarah, the first look. It was a surreal moment. Both of us wearing the proper attire for our wedding; her wedding dress was finally on, I'd finally see it, I was in my suit just for that day. It was something different, maybe magical, it was real, but it was almost a dream, but it was real.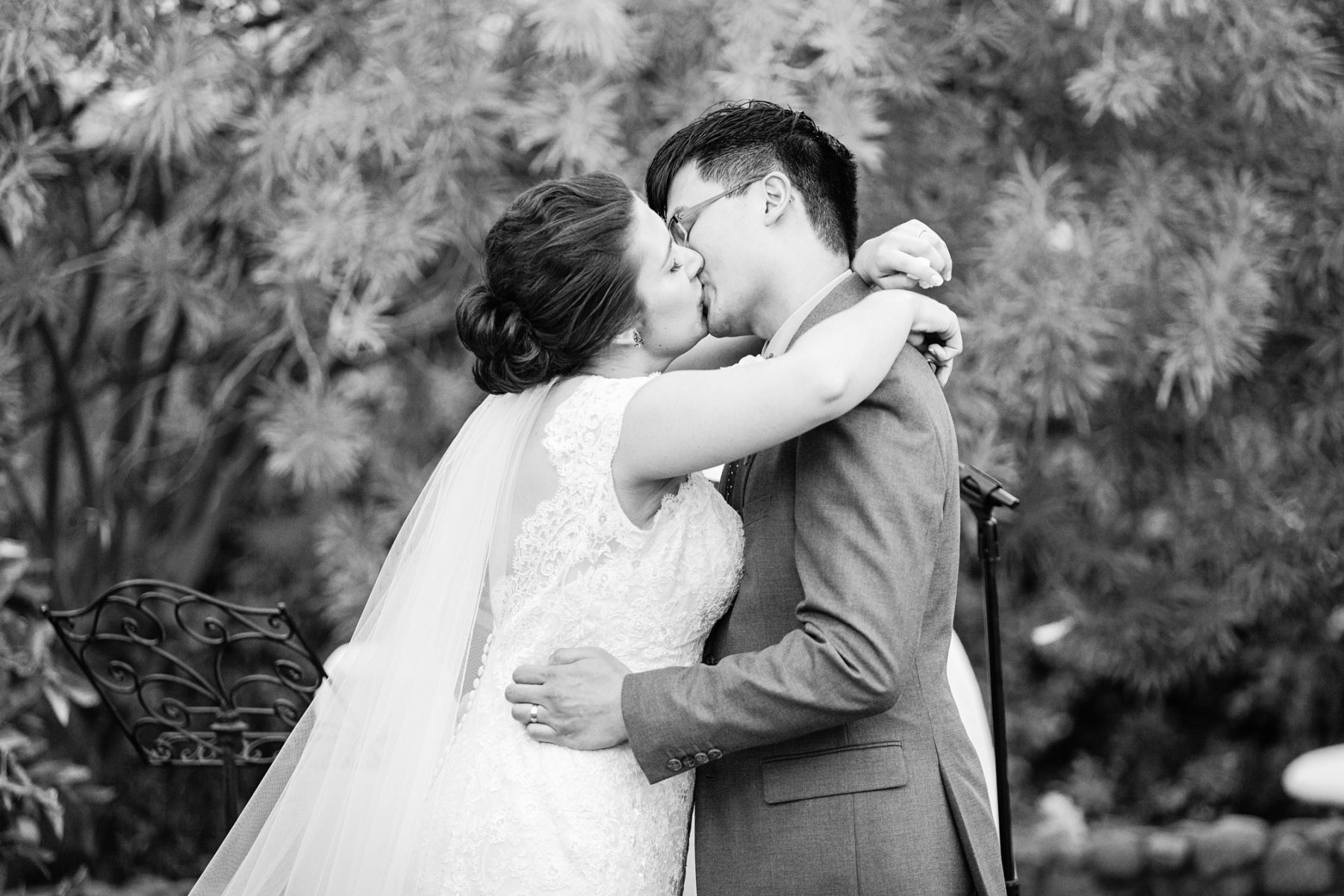 How is married life so far?
Jayrom: It's just like any other day, but each day is a special day. It's awesome.
Many thanks Jayrom and Sarah for sharing their story, and to Katie McGihon Photography whose beautiful photos are in this post. For a full list of the vendors at Sarah & Jayrom's wedding, see our portfolio. You can also see all the details over at Vision Events who did a great job on the decor, design and coordination. 
Watch the film we shot at Sarah and Jayrom's wedding to see the highlights of their day and hear their beautiful vows!